Shining the (UVC) light on COVID-19
Marie Donlon | February 26, 2021
Among the number of solutions to emerge from the COVID-19 pandemic to ensure that some semblance of normal life would go on — be it through contactless technologies, social distancing gadgets and a variety of coatings to protect surfaces, to name just a few — many are now incorporating ultraviolet (UV) light for its virus and bacteria killing properties.
Recent studies have confirmed that specifically, UVC light, which is UV light in the 100 nm to 280 nm range, can destroy bacteria and viruses including SARS-CoV-2, the virus responsible for COVID-19. Considered particularly effective in the 200 nm to 280 nm range against viruses and germs, UVC light damages the molecules necessary for viruses to survive. As such, it has been eyed for and subsequently incorporated into a number of solutions for combating COVID-19.
Following is a summary of the UVC light solutions to emerge from the COVID-19 pandemic.
UVC light-emitting bots
Because the risk of illness and even death is considerable with the COVID-19 virus, it seems only natural that solutions for sanitizing public spaces would be automated. Joining the legion of robots to emerge in the fight against the global pandemic includes a number of robots equipped with germ-fighting UVC light.
MIT's Computer Science and Artificial Intelligence Laboratory (CSAIL) has created a robotic system that disinfects surfaces and neutralizes aerosolized coronavirus particles using a UVC light fixture that is incorporated into an Ava Robotics' mobile robot base.
The UVC array relies on short-wavelength UVC light to kill microorganisms, disrupting their DNA via a process known as UV germicidal irradiation.
Another robot, dubbed the GermFalcon from Dimer UVC Innovations, was designed to disinfect airplane cabins also using UVC light to inactivate viruses and bacteria on high-risk surfaces and in the air.
Meanwhile, researchers at the University of Illinois Urbana-Champaign have also constructed an autonomous UV disinfecting robot that will hasten the return of workers to the office and commuters to mass transit following the COVID-19 pandemic.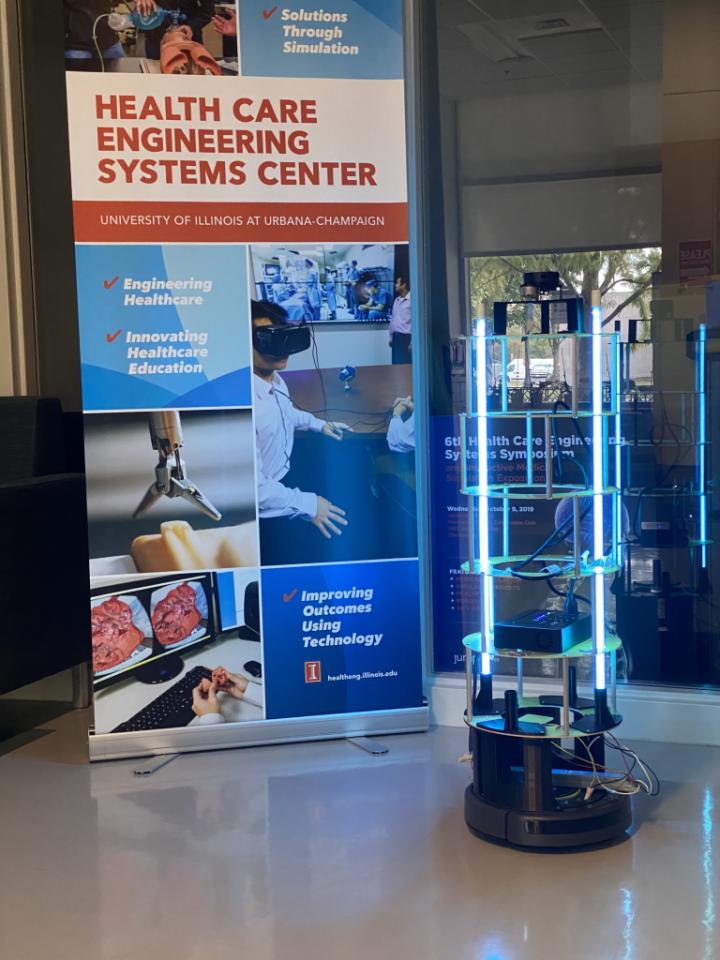 University of Illinois Urbana-Champaign
The so-called UVBot features a UV lamp, a Roomba vacuum cleaner and 3D-printed parts that attach the UV lamp to the Roomba.
According to its developers, the UVBot can be programmed to autonomously sanitize high-risk surfaces using UVC light.
Finally, LG Electronics also developed a disinfecting robot that eliminates germs and bacteria via UVC light.
The LG autonomous UV robot sanitizes high traffic public spaces, such as those found in the hospitality, education, retail, restaurant and transportation sectors as well as office settings.
UVC light-treated masks
Scientists from New York's Rensselaer Polytechnic Institute (RPI) are exploring the use of UVC light to sterilize personal protective equipment (PPE) used by those on the front lines in the battle against the COVID-19 pandemic. According to the RPI scientists, thousands of face masks can be disinfected daily using UVC light to help fill the shortage of PPE supplies that plagued hospitals in the early days of the pandemic.
According to RPI, the disinfection device features two UVC lamp fixtures attached vertically at opposing ends of an 8 ft2 enclosure. A motorized conveyor pulls used masks through the enclosure and between the bulbs, exposing the used masks to a UVC light treatment.
UVC light-emitting drone
Scientists from the National University of Ireland Galway's Health Innovation via Engineering (HIVE) lab developed a UVC-emitting drone, aptly named UVC Drone, which sterilizes surfaces in public places via UVC light.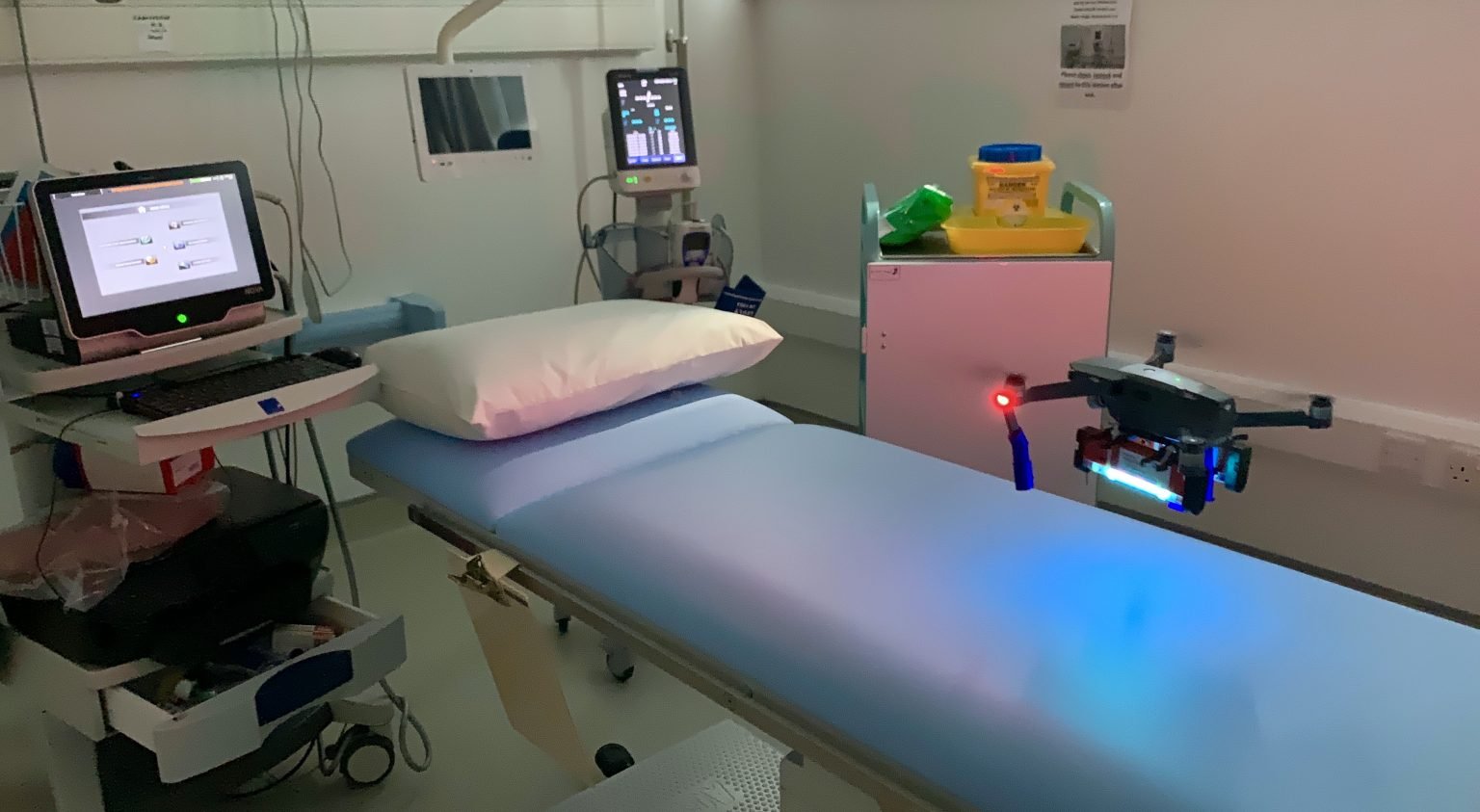 National University of Ireland Galway's Health Innovation. Source: Engineering (HIVE) lab
The drone has been employed in sterilizing high risk public spaces including restaurants, hospital wards, shopping centers and airports with rays from the UVC band of UV light, emitting high frequency, short wavelength bursts of radiation imperceptible to the human eye. Those rays are emitted over predetermined locations and at predetermined times — generally at night and when the space is unoccupied.
UVC light-emitting Blu-ray discs
A team from the University of California, Irvine has found another potential use case for Blu-ray digital video discs: recovering diodes from those discs and turning them into deep UV laser photon sources to quickly disinfect surfaces and indoor air.
According to the research team, the UV laser photon sources could potentially be incorporated into masks, disinfecting the air that is both inhaled and exhaled by the wearer; built into air circulation ducts in buildings, disinfecting the air flowing through these systems; included in hand-held devices to treat surfaces; or transformed into light curtains that people pass through.
UVC light handrails
A UVC light device that continuously sanitizes handrails is being incorporated into escalators throughout the London Underground to restore confidence in mass transit amid the COVID-19 pandemic.
Once incorporated, the device's UVC light-bulb is triggered by the movement of the escalator handrails. As the handrails move, UVC light continuously sanitizes the handrail surfaces, which pose a significant risk for COVID-19 transmission. According to reports, the UVC device improves sanitation efforts by 50%.
A UVC light-emitting appliance for the home
A company with ties to Nanyang Technological University in Singapore has created a bladeless fan that cools a room down while also disinfecting the air in that same enclosed space.
The vortex ceiling fan, which is called Vortec, is a combined ceiling fan and LED lamp that draws air up from the lower regions of a room and exposes it to a UVC light for disinfection and forces the recycled air out in a 360° arc. According to its developers, the Vortec's UVC light kills viruses, including COVID-19, in the enclosed space.
This is just a sampling of the UVC-light enhanced technologies being used to fight COVID-19. Check back with Engineering360 for more technological solutions being used to fight the virus.