Study: Methane emissions from oil and gas wells higher than previous estimates
Marie Donlon | January 21, 2021
Researchers from Canada's McGill University have determined that methane emissions from abandoned oil and gas (AOG) wells are higher than previously thought — by as much as 150% and 20% in Canada and the U.S., respectively.
Citing a lack of information about methane gas quantities emitting from AOG wells and the total number of existing AOG wells (capped or uncapped) and their locations, McGill researchers believe overall methane emissions are underestimated, as is the environmental impact of those methane emissions. Because drilling dates back to the 1850s in both the U.S. and Canada, records of former drill sites in particular are hard to find. As such the methane emissions from such AOGs may go unmeasured,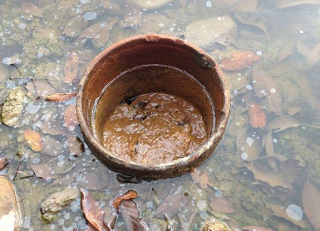 Bubbles of methane gas in water around an unplugged oil and gas well in Pennsylvania. Source: Mary Kang
To locate such AOGs, the McGill team examined data from 47 provincial, state and territorial databases, research articles and national drilled and active well repositories in the U.S. and Canada.
Of the 4 million AOGs estimated to exist in the U.S., the McGill team determined that 500,000 of those AOGs were undocumented. Similarly, records in Canada, which only date back to 1955, revealed that of the estimated 370,000 AOG wells in Canada, roughly 60,000 were missing from the country's databases.
To determine how much methane was emitting from the wells, the team examined roughly 600 direct measurements of methane emissions culled from existing studies focused on the AOG wells in Ohio, Wyoming, Utah, Colorado, Oklahoma, West Virginia and Pennsylvania and wells in Canada's British Columbia and New Brunswick. The researchers devised assorted scenarios to account for the different levels of annual methane emissions to the wells, based on the "plugging" status of the wells along with whether the wells were oil or gas.
"We see that methane emissions from abandoned wells can vary regionally, highlighting the importance of gathering measurements from Texas and Alberta which have the highest percentage of wells in the U.S. and Canada and no prior measurements," explained James P. Williams, a study author and Ph.D. student in the Department of Civil Engineering at McGill.
According to the McGill team, the assorted scenarios demonstrated that the annual methane gas emissions from U.S. AOG wells were roughly one-fifth higher than previous U.S. Environmental Protection Agency estimates. Meanwhile, the team determined that in Canada, AOG well emissions were roughly three times higher than previous estimates from the Environment and Climate Change Canada.
The study, "Methane emissions from abandoned oil and gas wells in Canada and the US" appears in the journal Environmental Science and Technology.