Methane leaks from offshore oil and gas rigs are quantified
S. Himmelstein | August 16, 2019
Atmospheric methane emissions have been steadily increasing since 2006, with biogenic sources such as wetlands and livestock, and anthropogenic activities, including fossil fuel use, identified as contributing culprits. An overlooked source is leakage of this greenhouse gas from oil and gas wells, a phenomenon which was quantified at eight oil and gas production platforms in the North Sea by an international research team.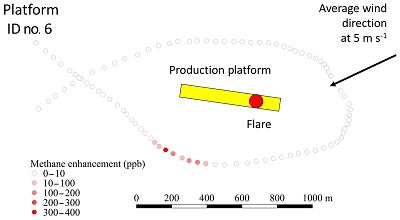 Minute-averaged methane enhancements made upwind and downwind of one production platform. Source: Stuart N. Riddick et al.
Methane concentration data collected with a laser-based analyzer during normal platform operations were combined with meteorological data in a Gaussian plume model to estimate emissions for each site. A median emission of 6.8 g methane per second was determined for each platform. The methane loss was estimated to account for 0.19% of natural gas production, far higher than the 0.13% reported to the U.K. National Atmospheric Emission Inventory for total methane loss from U.K. platforms in the North Sea. The inventory typically includes emissions associated with offloading and flaring, but does not account for the methane leakage observed during normal platform operation.
The research conducted by scientists from Princeton University, Cranfield University (U.K.), University of Manchester (U.K.), University of Cambridge (U.K.), University of East Anglia (U.K.), McGill University (Canada), and University of London is published in Atmospheric Chemistry and Physics.