Weir Minerals adds three new pumps to augment its Lewis pump range
Diana Aoun | January 10, 2021
Weir Minerals recently expanded its already impressive Lewis pump range with three new pump models that will cater to the sulphur, sulphuric and phosphoric acid industries. The Lewis VL Axial Pump, Horizontal Process Pump and Vertical High Pressure Molten Salt Pump have been designed to deliver advanced pumping performance and wear life even in the harshest operating conditions while simultaneously ensuring easy maintenance and operation.
Although each pump has been uniquely designed for its specific application, these three pumps share similar features such as superior materials of construction and a streamlined design.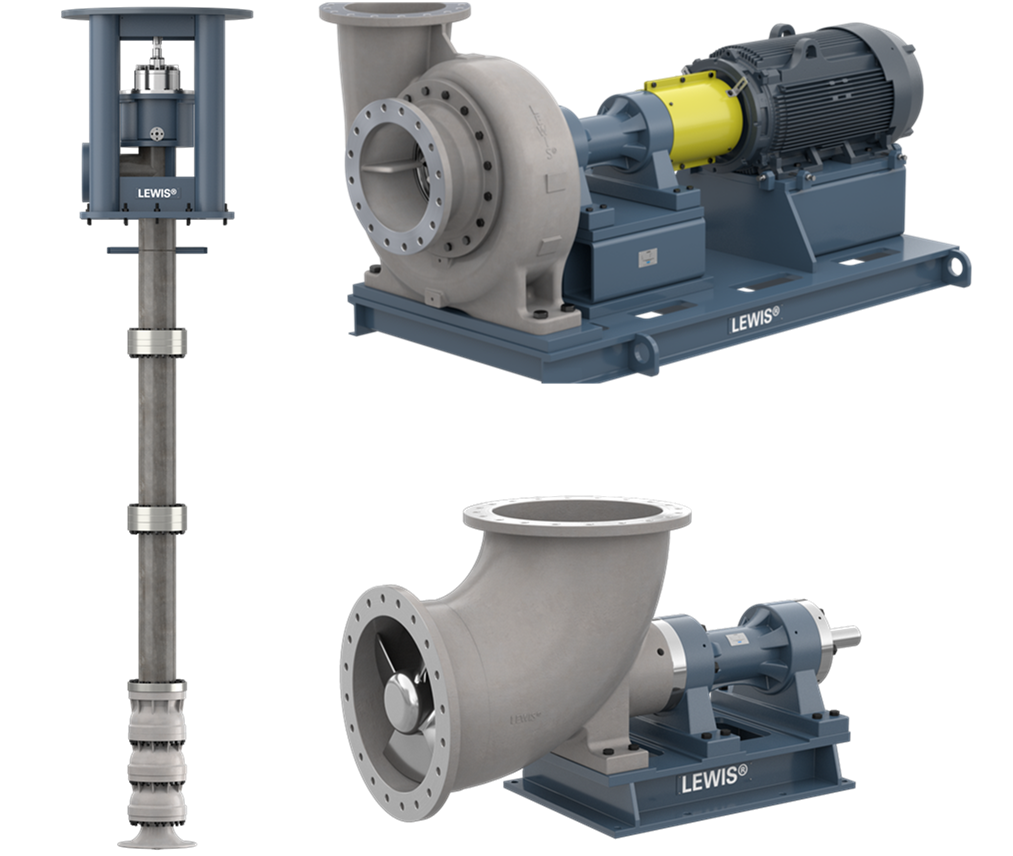 Source: Weir Minerals
The Lewis Horizontal Process Pump
This single stage, end suction horizontal process pump combines long-lasting corrosion and wear resistance with the patented Lewmet alloys, capable of efficiently handling a wide range of corrosive and non-corrosive liquids. The centrifugal pump delivers robust performance, efficiency, ease of maintenance, and safe and reliable operation. It is suitable for a wide range of chemical processing applications including those in the acid and fertilizer industries. The pump has a flow capacity of 3271 m3/h (14400 US gpm) and can deliver a head of 183 m (600 ft).
The Lewis VL Axial Flow Pump
This axial flow pump has been specifically designed to handle challenging operating conditions in high flow, low head pumping applications. The Lewis VL Axial Flow Pump features a flexible design, heavy-duty construction and is available in a wide range of materials including Lewmet alloys for erosion and corrosion resistance in severe conditions. Other notable features of this pump include advanced hydraulic design that ensures high efficiency and flow while reducing NPSHr, a compact design for easy handling and operations, and an optional casing sleeve to extend wear life. The pump has a flow capacity up to 13,628 m3/h (60,000 US gpm) and can deliver a head of up to 12 m (40 ft). Applications include chemical processing (evaporator and crystalliser circulation), general industry, mining and minerals, and pulp and paper.
The Lewis High Pressure Vertical Molten Salt Pump
This pump is a high-pressure vertical turbine pump capable of expanding from 3 to 14 stages and has been specifically designed for operation in the Concentrated Power Plants (CSP) that contain high pressure energy collection systems. The pump is therefore made for the specific purpose of handling the various challenges associated with high pressure and high temperature pumping for molten salt applications. Key features include low NPSH (first stage), a protective thermal barrier and a non-contacting shaft seal. This high-pressure vertical pump has a flow capacity up to 1600 m3/h (7045 US gpm), can deliver a head of up to 701 m (2300 ft) and can handle temperatures up to 593° C (1100° F).