NIKKINSON Non-seal canned motor pump for high pressure and temperature applications
Diana Aoun | June 29, 2021
The non-seal canned motor pump from NIKKISON features a centrifugal pump and airtight canned motor attached to form one single unit. The unique design of the canned motor pump makes it ideal for transfer and circulation of hazardous and toxic fluids. The pump is available in a range of models to cater for a wide spectrum of applications including chemical processing, refinery fluids transfer and high-pressure condensate applications in the energy industry.
NIKKISON's non-seal pumps feature the E-monitoring system used to determine the wear condition of bearings and rotor position during pump operation. The E-monitor's LED display indicates relative axial and/or bearing wear and is used for predictive maintenance.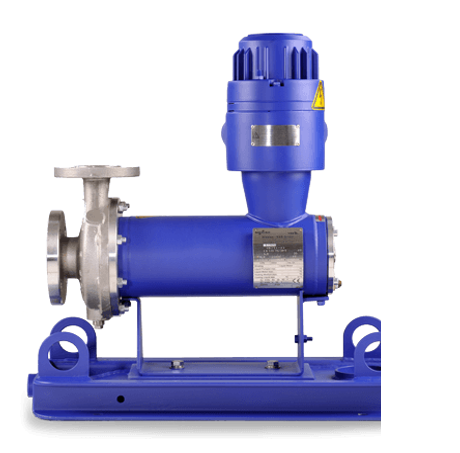 Source: Lewa Group
The non-seal pumps feature an airtight design which protects operators from exposure to toxic substances. In addition, NIKKINSON offers pumps models that are designed to handle explosive or flammable fluids and other aggressive fluids. Some pump models are available in accordance with ISO 2858 and API 685, and other standards.
The highly efficient impeller design is offered in an open or closed construction. The pump's advanced hydraulic design eliminates axial thrust, preventing the shaft position from influencing the motor cooling flow. The pump and motor share a single shaft, available in various configurations and materials depending on the specific application. In some models, the entire outer side of the motor is encapsulated in a second leak-proof protective shell. Integrated temperature monitoring at the stator winding indicates when to switch off the motor in case of overheating. Thermostats are available as an additional option, where required.
The standard model of the NIKKINSON non-seal pump range is the Type HN pump which is suitable for a wide variety of clean, non-volatile liquids. The Type HN has a flow rate of up to 780 m³/h (3434 GPM) with heads up to 210 m (689 ft) or 300 m (984 ft) at 60 Hz. The pump motor power capacity is 132 kW (200 kW without explosion protection), with a temperature rating of -60° C to +200° C (-76° F to 392° F).
Other pump models are available that can cater for a range of difficult applications including high-viscosity fluids, liquids with high melting point, high temperature process fluids (such as hot oils), slurries, liquids with high vapor pressures and more.