EBARA Pumps launches the EVMS-K
Diana Aoun | May 26, 2021
Japanese pump manufacturer, EBARA, has combined two of its prominent pump technologies to produce its new vertical multistage pump: the EVMS-K. This latest offering from EBARA integrates its leading EVMS pump range with its E-SPD inverter to produce an energy efficient pump with high operating efficiencies, lower space requirements and simplified installation.
The new vertical multistage surface pumps come in AISI 304 steel (EVMS), AISI 316L (EVMSL) or cast iron (EVMSG), each complete with an integrated E-SPD frequency converter. The unique design of the EVMS with EBARA's patented "Shurricane" impeller combined with the E-SPD air cooled inverter enables continuous speed variation while operating on any working point. The result is optimized performance and power consumption based on specific system requirements.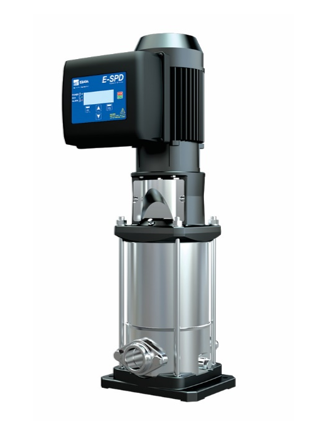 Source: Ebara Group
The EVMS-K uses an ETM motor with IE3 efficiency in accordance with IEC 60034-30 standard. Motor sizes from 0.75 kW up to 4 kW are available with inverter voltages of 230 V up to 2.2 kW (single-phase) and 400 V up to 4 kW (three-phase).
EBARA offers a wide selection of piping connections in a range of materials including AISI304/AISI316 as well as cast iron. Shaft seal options include resin impregnated carbon graphite, sintered silicon carbide and silicon carbide with carbon graphite. The cartridge shaft seal enables plug in replacement of the shaft seal without the need to disassemble the motor bracket.
Using an innovative hydraulic design method, EBARA's patented "Shurricane" impeller reduces pump axial thrust loads therefore enabling higher pumping efficiencies without the need for additional bearings on the pump bracket. The pump also comes with various smart plug options including air ventilation plug, water filling and sensor plug, commercial sensor fitting and more.
The EVMS-K (larger model) has a maximum nominal flowrate of 25 m3/h (110 US GPM), and a maximum operating pressure of 16 to 25 bar (232 to 363 PSI) depending on pump size. The EVMS-K is suitable for a range of applications including pressure boosting and stabilization, water distribution in commercial facilities, washing systems, pharmaceutical and food applications, and irrigation (such as domestic crops, parks/sporting fields and gardens/nurseries).