The new generation of Grundfos CR pumps: World-class efficiency with large flow and pressure capabilities
Diana Aoun | April 28, 2021
Water solutions giant Grundfos has upgraded its CR series of vertical, multistage centrifugal pumps. The new range comes with three new large flow sizes, up to 580 psi pump pressure and significant energy efficiency upgrades. The CR 185, CR 215 and CR 255 represent the very latest innovation in pumping technology, offering superior energy efficiencies and enhanced operating performance.
Grundfos has fine-tuned the hydraulic design of the CR range using state-of-the-art simulation and testing. A wide range of customizable options is available to ensure the best performance for specific applications. Options include:
Difficult liquids: Grundfos offers magnetic-drive pumps or CRN pumps with double shaft seals to prevent contamination by toxic, aggressive, odorous, flammable and other difficult media.
High temperature liquids: For liquid temperatures exceeding 120° C (248° F), Grundfos offers an air-cooled seal solution for CRN pumps. Air-cooled tops can tolerate water temperatures up to 180° C (356° F) and oil temperatures up to 240° C (464° F).
Ultra-pure water: CRN pumps are available to meet the specific requirements of ultra-pure water applications with migration-free execution (carbon-free or clean and dry models).
Low NPSH: CR pumps can be fitted with a dedicated low-NPSH stage to avoid cavitation in systems with challenging inlet conditions.
Horizontal mount: CR pumps are available in horizontal mount positions upon request for systems in earthquake-prone regions, areas with limited height, or aboard ships
ATEX/EX: Pumps in the CR range are also available with explosion-proof motors and ATEX approval.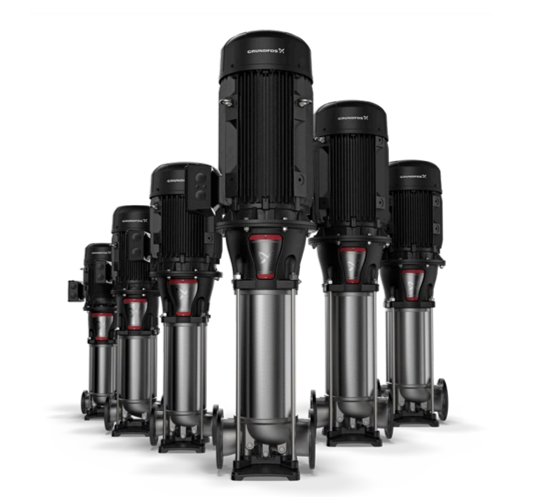 Source: Grundfos
For the largest pump model (100HP+), Grundfos has developed a thrust handling device (THD), which enables the use of standard motors. By using discharge pressure to balance axial thrust load, motor service life is improved.
The design of the pump impeller, shaft seal and top cover have all been optimized for maximum efficiency and durability. New models can produce flow rates of up to 110 L/s (1750 gpm) and pressure heads up to 396 m (1300 ft).