The new Wangen Twin NG screw pump
Diana Aoun | April 05, 2021
German pump manufacturer Wangen Pumpen recently launched its new generation of Twin NG screw pumps in its hygienic pumping solutions range. The Twin NG has been specifically designed to pump low to high viscosity, volatile or gaseous fluids for applications that require maximum hygiene and efficiency.
Easy serviceability is the theme of the new series, which offers spindle replacement that does not require resynchronization of the spindle shafts. The mechanical seal comes in a fully assembled cartridge that is replaced quickly and easily.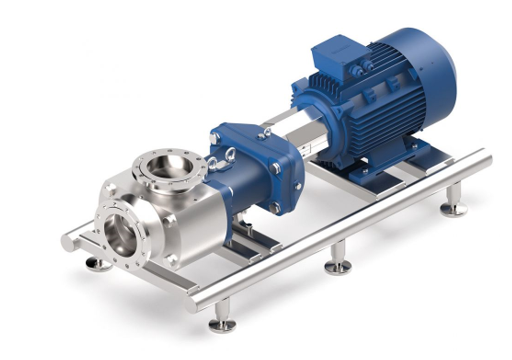 Source: Wangen
The Twin NG series gets its name from the double pump concept — it can be used as both a product and a CIP (clean in place) pump. This saves on the significant costs associated with bypass pumps, pipework, valves and other equipment required for conventional CIP systems. With the Twin NG, the water or cleaning solution can be added after product pumping, with the pump running at high speed for cleaning.
Other notable design features of the Wangen Twin NG include high suction lift with axial pumping and slow acceleration of the product in the pump with NPSHR of less than 2 m. Pumping can be adjusted in both directions simply by reversing the rotational direction. Equally impressive is its ability to pump liquids with gas content as high as 60% thanks to the pump's high velocities. There is no risk of the pump running dry thanks to the contactless operation and blocked mechanical seals.
The Wangen Twin NG series can handle a wide range of viscosities (from 0.5 mPas to 1,000,000 mPas) without compromising performance. The axial pumping and slow acceleration also ensure low pulsation — enabling the gentle handling of sensitive media.
The Twin NG 70, 104 and 130 models come with the 3-A sanitary standards label as well as the EHEDG (European Hygienic Engineering & Design Group) label, which is also available for the Twin NG 180 model. This provides users confidence and peace of mind when using the Twin NG for hygienic applications.
The new Wangen Twin NG screw pumps come with a variety of options such as a flexible range of drives, heating or cooling jackets, a large variety of flange connections and various mechanical seals as standard versions.
The Twin NG pump can deliver a maximum flow rate of 200 m3/hr (880 US gpm) and maximum differential pressure of 30 bar (435 psi). It is suitable for a broad range of applications across various industries including food and beverage, cosmetics, chemical handling and more.