Uniglide-e: The new single-stage, double-entry pump from Celeros
Diana Aoun | December 29, 2020
In the latest innovation from the ClydeUnion pump range by Celeros, comes the Uniglide-e axially split double-entry pump series. Using the latest 3D and Finite Element Analysis (FEA) software, Celeros has produced a pump with supreme reliability, excellent performance and low cost. The Uniglide-e range comes with a variety of standard as well as optional features that will suit the most challenging operating environments.
Celeros' new pump design ensures easy, minimal maintenance. The split casing design allows easy access to the pump rotor with no required disturbance to pipework or driver. Celeros also claims that cartridge bearings and seals can be changed in only a fraction of the time taken for conventional axially split case pumps.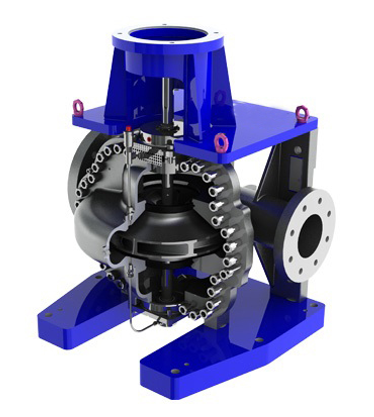 Source: Celeros
The hydraulic design of the pump contributes to lower energy costs and high efficiency. The optimized geometry of the impeller design provides low NPSH while maintaining high efficiency and minimizing axial thrust. This contributes to stable performance and extended bearing and seal life.
The Uniglide-e comes standard with stainless steel impeller or an optional steel alloy impeller for specific applications, both offering superior corrosion protection and optimized lifetime operation. As standard, all spare impellers come mounted on a new shaft. The pump has also been uniquely designed without an impeller key, thus eliminating fretting and fatigue failures and extending pump life. Shaft design ensures minimal dynamic shaft deflection, ensuring an extended shaft life.
The Uniglide-e pumps have a capacity of up to 4,000 m3/h and a delivery head up to 200 m (650 ft). There are 48 individual pump frame sizes available that are divided into seven modular shaft groupings. The pumps are available in both horizontal and vertical configurations with material options available for non-corrosive and corrosive applications including seawater. WRAS and NSF coatings suitable for potable water are also available. Clockwise and anti-clockwise rotations are offered for both 50 Hz and 60 Hz markets.