Watch dogs diagnose COVID-19
S. Himmelstein | July 31, 2020
With little additional instruction, trained sniffer dogs can effectively ferret out the presence of COVID-19 in samples of saliva or tracheobronchial secretions from infected patients. After training for one week to distinguish between infected and non-infected samples, eight detection dogs from the German Armed Forces demonstrated an average detection rate of 94%.
The dogs are thought to identify COVID-19-positive samples on the basis of unique volatile organic compound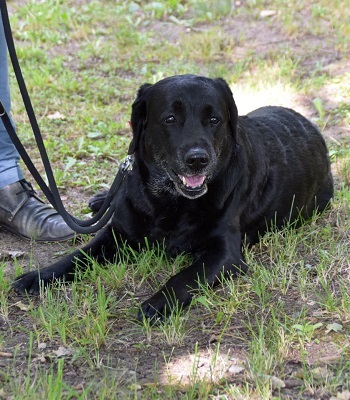 Frida the Labrador Retriever was trained to sniff out COVID-19. Source: Kerstin Thellmann, University of Veterinary Medicine Hannoverimprints associated with the virus. Biological samples were presented to the sniffer dogs by means of a Detection Dog Training System designed to offer samples in a randomized automated manner without trainer interference. The demonstration used samples from seven infected and seven healthy individuals; two of the positive samples were tracheobronchial secretion, the other samples consisted of saliva.
The canines correctly identified 157 positive samples and 792 negative samples, while incorrectly identifying 33 negatives and incorrectly rejecting 30 positives, resulting in an average sensitivity of 83% and a diagnostic specificity of 96%.
The research published in BMC Infectious Diseases suggests that this method could be employed in public areas such as airports, sporting events or other mass gatherings as an alternative or addition to laboratory testing to help prevent additional outbreaks. Scientists from the University of Veterinary Medicine Hannover (Germany), German Armed Forces and University Medical-Center Hamburg-Eppendorf (Germany) contributed to this canine-centered diagnostic development.