Chew on this to reduce COVID transmission
S. Himmelstein | December 06, 2021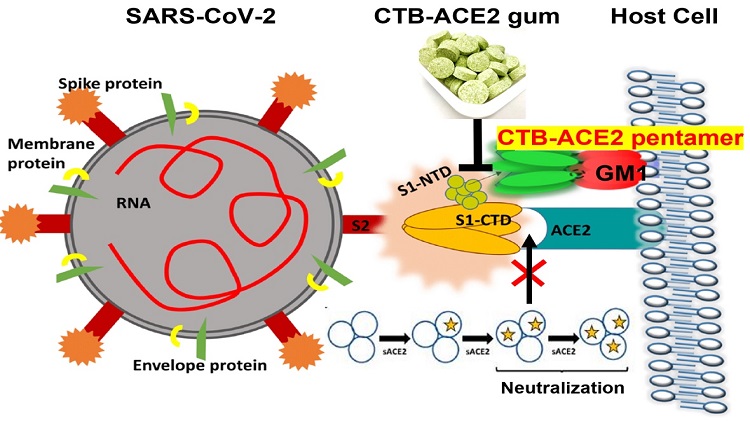 By either blocking the ACE2 receptor or binding to the SARS-CoV-2 spike protein, the ACE2 in the gum appears to reduce viral entry into cells. Source: Henry Daniell et al.
A low-cost tool that may help reduce transmission of the SARS-CoV-2 virus responsible for COVID-19 infection has been developed by researchers from the University of Pennsylvania, The Wistar Institute (Pennsylvania) and Fraunhofer USA (Delaware). Chewing gum containing vegetable protein functions as a viral trap and reduces the viral load in saliva and potentially transmission.
The edible is infused with angiotensin-converting enzyme 2 (ACE2) protein synthesized with a patented plant-based production system. The receptor for ACE2 on human cells also binds the SARS-CoV-2 spike protein. Previous research has concluded that injections of ACE2 can reduce viral load in people with severe infections.
Cinnamon-flavored gum tablets incorporating the plant material were tested with samples obtained from nasopharyngeal swabs from COVID-positive patients. The researchers observed that the ACE2 neutralized SARS-CoV-2 viruses, a finding further confirmed by exposing saliva samples from COVID-19 patients to the gum and documenting dramatic declines in viral RNA levels.
"SARS-CoV-2 replicates in the salivary glands, and we know that when someone who is infected sneezes, coughs, or speaks some of that virus can be expelled and reach others," said University of Pennsylvania scientist Henry Daniell. "This gum offers an opportunity to neutralize the virus in the saliva, giving us a simple way to possibly cut down on a source of disease transmission."
The research is published in Molecular Therapy.