Robots deployed in the fight against COVID-19
Marie Donlon | March 19, 2020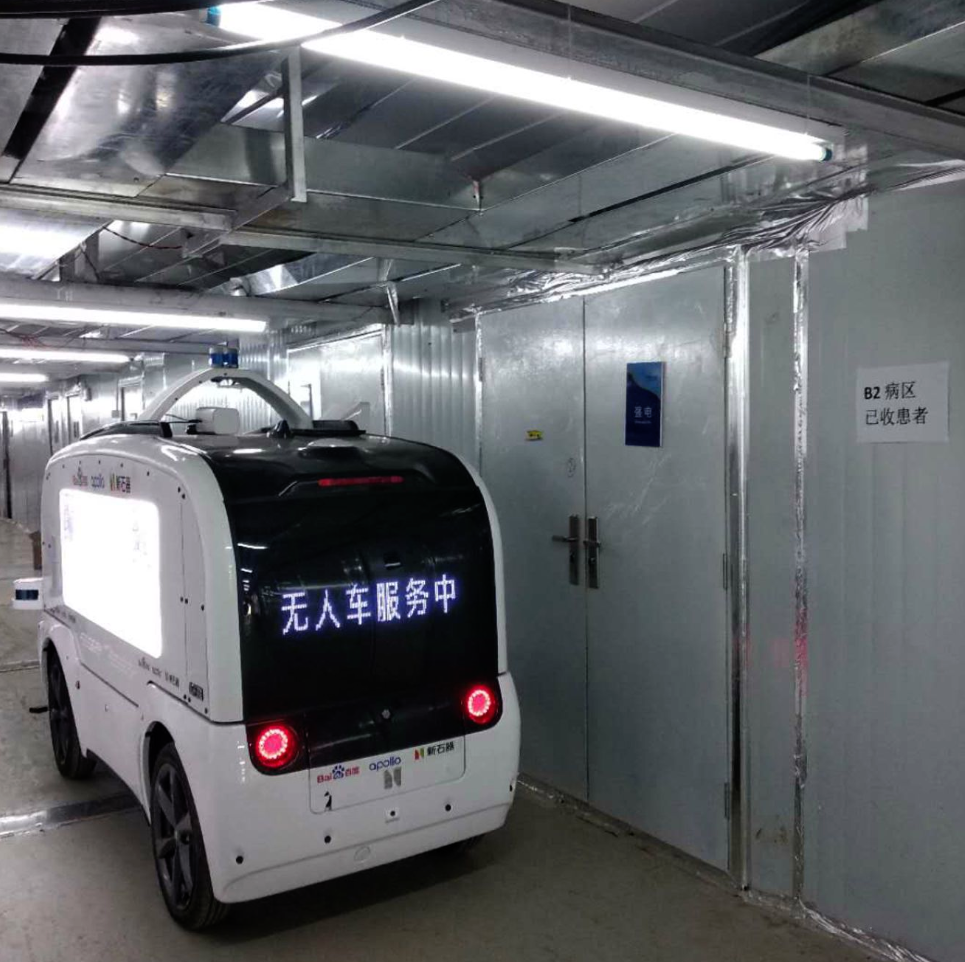 Source: NeolixRobots from all over the world are helping to combat the spread of COVID-19, otherwise known as coronavirus. Performing tasks such as disinfecting mass transportation to serving as a lifeline to those quarantined and isolated from their loved ones, robots are playing a greater role in the fight against the virus' spread than perhaps most other technology.
Disinfecting
The Mass Transit Railway in Hong Kong, which serves millions of passengers each day, has deployed a mini-refrigerator shaped robot to disinfect hard-to-reach surfaces in subway cars. It does this by spraying a hydrogen peroxide solution in the nooks and crannies between seats and other sections of the cars.
Disinfecting robots are also being deployed at a hotel in Houston, Texas. The Lightstrike germ-killing series of robots zap guest rooms and common areas in the Westin Hotel in the Texas Medical Center with germ-killing ultraviolet light.
Autonomous vehicle delivery startup Neolix is also lending its line of self-driving vans to the COVID-19 fight to deliver medical supplies as well as to disinfect roadways in Wuhan, China, the epicenter of the COVID-19 pandemic.
Isolating
In this era of social distancing, those perhaps hardest hit by the COVID-19 pandemic are residents of long-term care facilities. Since the early rumblings of the virus, assisted living and other long-term care facilities limited, or canceled visitation hours altogether, leading residents to have limited contact with their loved ones and leaving them feeling isolated and lonely.
As such, a robotics company from Belgium has lent a fleet of robots to elder care facilities in that country that enable the elderly residents to stay in touch with loved ones via the robot's video-calling capabilities.
Face masks and advice
The Promobot, from a Philadelphia-based service robot maker of the same name, spent the early days of the COVID-19 spread autonomously roaming the streets of New York City. There, the Promobot interacted with passersby, offering them tips about staying healthy amid the pandemic and conducting interactive surveys to help New Yorkers determine whether they showed signs of infection. Also in those early days of the pandemic, the Promobot distributed face masks before the masks became the victim of a disrupted supply chain and after their effectiveness was called into question.
Vital signs
A robot from Israeli startup Robotemi can work in conjunction with healthcare professionals, taking a patient's temperature while a remote doctor reads the results and discusses them with the patient. The robot, nicknamed Temi, can also improve long-distance communications, connecting the elderly as well as quarantined patients with their loved ones from a safe distance.
In addition to that capability, the robot can also serve to entertain users, especially those under quarantine, by playing music and games, answering questions and taking pictures. In a time before the coronavirus pandemic, however, Temi performed assistant functions in an office setting.
Similarly, China is using 5G-enabled patrol robots for monitoring public spaces, such as mass transportation hubs, to determine if commuters are wearing mandated face masks. The robots, which are actually modified 5G-enabled police patrol robots, are also equipped with infrared thermometers and high-res cameras to scan commuters' for their temperatures. Reportedly, the former patrol robots can scan 10 commuters at once within a 5 meter range.
Swabbing
A respiratory specialist in China has developed a throat swabbing robotic system to assist healthcare workers by taking swab samples from COVID-19 patients. Zhong Nanshan, along with a team of researchers from the Shenyang Institute of Automation, built a robotic arm outfitted with a binocular endoscope, a human-computer interface terminal and a wireless transmission device for performing swabs quickly and gently without exposing healthcare workers to the risk of infection.
Going forward
This is just a sampling of the robots helping to fight COVID-19. In other instances, robots are manning entire hospital wards and even deployed to clean airplanes. Check back with Engineering360 for Covid 19-related technological developments and coverage.