The Post-COVID-19 Hospital: Part 1
Marie Donlon | August 09, 2021
If the last year taught us anything, it is that the world will look quite different going forward following the COVID-19 pandemic. Virtually every industry imaginable has been altered by COVID-19, be it the transportation industry, which had to quickly devise disinfecting and social distancing efforts to safely transport commuters, to the electronics industry, which had to keep up with the demands of an almost entirely remote global work force. No industry was immune.
The healthcare industry, by virtue of its role in diagnosing, treating and managing illnesses and diseases, was arguably among those hardest hit. Hospitals were overwhelmed with COVID-19 patients in addition to a regular roster of patients, and medical equipment and personal protective equipment (PPE) were in dangerously short supply — which put another layer of burden on an already overburdened work force.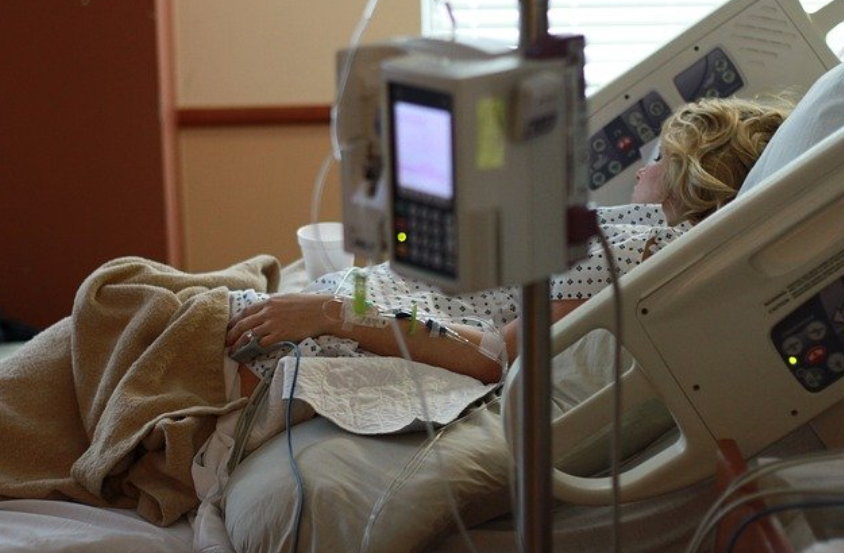 As such, the industry rolled with the proverbial punches and more than a year later it is slowly making its way back. With vaccinations rolling out in the first half of 2021, there are some components of pre-COVID-19 healthcare likely to return, but likelier still is that the healthcare landscape will remain changed, if not forever, then at least for the foreseeable future.
With the assorted healthcare-related technologies that emerged in response to the pandemic, what will the post COVID-19 hospital look like? Assuming remote technologies and contactless care are here to stay, its safe to assume that automation will rule the post-COVID-19 healthcare space.
As such, the likeliest holdover, technologically speaking, from the pandemic will be robots. With so many robots capable of different healthcare tasks, patients should expect to see robots filling critical roles in the medical setting. Not only have robots freed up healthcare professionals for higher level tasks, robots enable care at a distance, which, despite the number of vaccinations already administered, will continue to be a concern as far as preventing the spread of future illnesses in addition to protecting against the Delta strain currently forcing an uptick in COVID-19 infection rates globally.
Robots: The new healthcare professional?
Israeli startup Robotemi developed one such robot to work alongside healthcare professionals, taking patient temperatures while remote doctors read and discuss the results with the patient from a remote location. The robot, nicknamed Temi, can also improve long-distance communications, connecting the elderly as well as quarantined patients with their loved ones from a safe distance.
Meanwhile, a team from Shenyang Institute of Automation developed a throat-swabbing robotic system that takes swab samples from patients using a robotic arm outfitted with a binocular endoscope, a human-computer interface terminal and a wireless transmission device. The swabs are reportedly performed quickly and gently without exposing healthcare workers to the risk of infection.
Additionally, robots have been designed to take on a role in testing for the COVID-19 virus. ABB, a robotics company, has developed a robot-helmed lab in Singapore that expedites COVID-19 testing.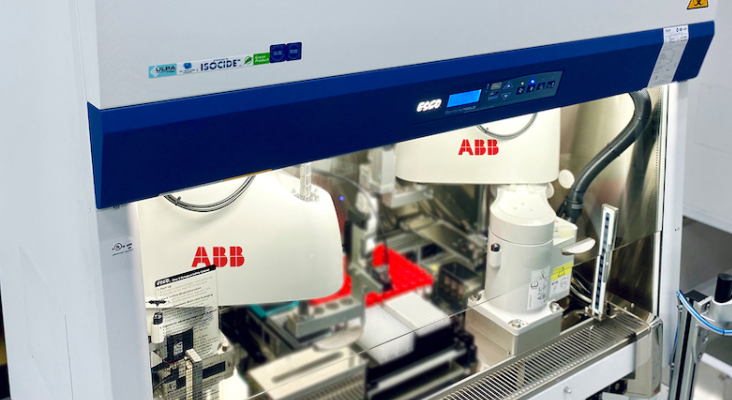 Source: ABB
At the automated COVID-19 testing labs called Rapid Automated Volume Enhancers (RAVEs), robots take over assorted repetitive and potentially dangerous tasks from human lab workers such as moving test tubes and transferring liquids via pipettes. This reportedly allows for the processing of as many as 4,000 test samples per day — an estimated four times the number of those processed by hand.
But robots in the healthcare field are not limited exclusively to direct patient care. Robot manufacturer PAL Robotics, has developed two delivery robots — the Tiago Delivery and the Tiago Conveyor robots — which are capable of conveying food to patients and delivering medical supplies, medications and blood samples throughout hospital settings.
As the name suggests, the Tiago Conveyor bot is outfitted with an actuated conveyor that can be used to place food on bedside tables within hospitals. Meanwhile the Tiago Delivery bot delivers medications, medical supplies and even blood samples throughout the hospitals using an onboard safe to secure the items. Only those staff members with an access code can unlock the safe.
Another indirect care task being automated in hospitals is disinfection. Researchers from the Fraunhofer Italia Innovation Engineering Center in Bozen, Italy, and the Fraunhofer Institute for Industrial Engineering IAO in Stuttgart, Germany, have developed a robot that interfaces with Building Information Modeling (BIM) — an intelligent 3D model-based tool for planning, designing, constructing and managing buildings and infrastructure — to autonomously disinfect doorknobs and other high-traffic surfaces.
The BALTO robot is linked to BIM data such as building geometries and plans its disinfection routes within a building based on BIM data. For instance, the BIM interface will reveal to Balto which doorknobs are used more frequently and, consequently, require frequent disinfection. Likewise, the BIM will let BALTO know what rooms are occupied and when, or if an area within the hospital is under construction, so that the robot can tailor its disinfection route.
Check back next week for part 2 of "The Post-Covid-19 Hospital." The second half of this article will delve into the healthcare-related technologies changing hospitals post COVID-19 including remote monitoring, remote instrument operation, telehealth and masks among other topics.