How technology is being used to combat the coronavirus
Marie Donlon | March 16, 2020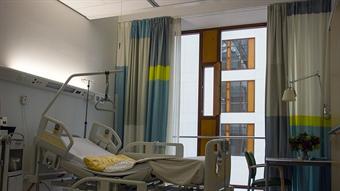 Engineers, scientists and innovators are busy looking for ways to prevent the spread of COVID-19, otherwise known as the coronavirus.
Following is a review of the latest technological tools being used to combat the spread of the virus so far.
Algorithms
Researchers from Chinese tech firm Alibaba have created an algorithm that they say is capable of detecting the coronavirus just 20 seconds after reviewing a patient's computerized tomography (CT) scans.
To develop the algorithm, the Alibaba team trained the system on the scans of roughly 5,000 confirmed cases of the virus. According to its developers, the algorithm has a 96% accuracy rate. Expediting diagnostics using such technology could hasten treatment of those infected with the virus, according to the algorithm's developers.
Apps
A team from the Medical College of Georgia at Augusta University has created a smartphone app that uses machine learning to enable users to determine whether they have the coronavirus, which includes symptoms that mimic those of the common cold and flu.
Using data supplied by the user — including details about how the user feels, where he or she has recently traveled, along with other factors such as age, gender, race and possible exposure to infected people — the app uses an algorithm to determine whether the user should contact a healthcare professional. It can also direct the user to a local testing facility for treatment, if needed.
Drones
Drone manufacturer DJI based in China has turned an agricultural spraying drone called the Phantom 4 RTK, which is typically used for surveying, mapping and operation planning, and combined it with the T20 plant protection drone to develop an autonomous disinfectant-spraying drone to treat streets across China. The autonomous spraying drone sprays enough disinfectant to cover a swath that is significantly larger than humans performing the same task would be capable of.
Robots
Several robots from various robotics and artificial intelligence (AI) firms have been deployed in the fight against the coronavirus. Rolled out to perform healthcare-related tasks such as delivering food to patients, disinfecting hospital wards, checking vital signs, transporting drugs and disposing of medical waste, these robots are working in affected zones, keeping healthcare professionals from direct contact with those infected with the virus.
For example, at the Wuchang Field Hospital in Wuhan, China, 12 sets of 5G-enabled robots are in command of the coronavirus ward where roughly 200 patients have been quarantined. Those robots reportedly perform healthcare-related functions such as disinfecting, disposing of medical waste, removing bedsheets, delivering food, taking temperatures, collecting patient data and sending live updates to remote doctors.
Similarly, a robotic arm developed by a professor at China's Tsinghua University performs ultrasounds, collects mouth swabs and listens for abnormalities in a patient's internal organs, reporting its findings to a remote doctor.
Robots also have been deployed in at-risk areas such as airplanes. Dimer UVC Innovations loaned its GermFalcon robot to airlines to zap bacteria and germs using ultraviolet light on the surfaces throughout an airplane's interior.
Portable labs
A team from the University of Cincinnati has developed a small, portable lab that enables users to test themselves for the coronavirus along with other infectious diseases.
The credit-card size lab connects to a smartphone and serves as a link between the user and his or her doctor's office. The user places the device in his or her mouth where it collects saliva, then sends the samples down two different channels: one channel mixes the saliva sample with freeze-dried detection antibodies while the other mixes with freeze-dried luminescent material for reading the results. The chip plugs into the phone where the results are transmitted immediately to the user's doctor for diagnosis.
Facial recognition
Early in the pandemic, a team from Chinese search engine company Baidu built a face-scanning tool to spot people in China not wearing mandated face masks in public. Trained on an estimated 100,000 images, the face-scanning AI could identify those not wearing the masks or wearing the masks incorrectly with an accuracy rate of 96.5%.
Ongoing efforts
As the global pandemic affects virtually every corner of the world, expectations are that even more sophisticated technologies will emerge to battle this and future viruses.
Check back with Engineering360 for updates on what those technological developments in the fight against the coronavirus might be.