Universal nanocarrier ink expands biomedical 3D printing possibilities
S. Himmelstein | March 16, 2020
Prospects for designing and manufacturing personalized medical implants appear brighter with the development of a universal carrier bioink at ETH Zürich. The new precision biomaterial can be applied to the 3D printing of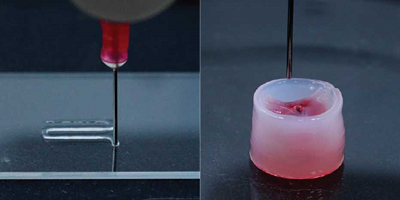 The new carrier ink can be used to produce personalized implants such as heart valves. Source: Guzzi et al.drug delivery systems, living tissue or heart valves.
The bioink platform is composed of cellulose fibers and biodegradable polymeric nanoparticles. Initially a solid, the material liquefies when squeezed through a 3D printer nozzle and returns to solid form. The embedded cellulose fibers attach to the nanoparticles when no pressure is applied. These bonds break when the material is squeezed and reform when the pressure is released.
The researchers demonstrated the versatility of the universal carrier bioink by combining it with different functional secondary polymers, such as collagen and fibrinogen. The ability to include these compounds imparts desired physical and mechanical properties, such as strength and flexibility, to 3D printed devices.
The viability of living cells in the ink was also confirmed, as was the potential to combine hydrophobic compounds with the nanoparticles or to add hydrophilic materials to the aqueous phase along with cellulose fibers.