Glucose biosensor is powered by...glucose
S. Himmelstein | December 16, 2019
Monitoring glucose levels requires diabetes patients to routinely subject themselves to painful finger pricks or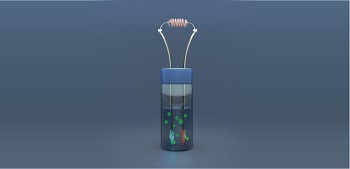 A schematic of the all-polymer biofuel cell, which draws energy from the glucose naturally present in saliva. Source: King Abdullah University of Science and Technology; Heno Hwangrely on implanted sensors that require battery replacement. A miniaturized sensor designed as a biofuel cell performs the same function but is powered by glucose itself.
The plastic device designed at King Abdullah University of Science and Technology in Saudi Arabia combines an electron-transporting polymer with a redox enzyme for the autonomous detection of glucose and power generation from bodily fluids. The n-type semiconducting polymer is coupled with the glucose oxidase enzyme, which oxidatively extracts electrons from its reaction with glucose.
The material was used in the assembly of an organic electrochemical transistor that effectively detected glucose levels in saliva. With continued development, the technology might be applied to the design of other self-powered sensors that run on metabolites produced in the body.