Sempra advances LNG export goals with Mitsui MOU
David Wagman | October 30, 2019
Sempra Energy said it signed a memorandum of understanding with Mitsui & Co. Ltd. for the Cameron LNG Phase 2 project in Louisiana, and a future expansion of the Energía Costa Azul LNG project in Baja California, Mexico.
The MOU is non-binding and covers ongoing support for the development of Cameron LNG Phase 2, including Mitsui's purchase of up to one-third of the project's available capacity, as well as the potential offtake of around 1 million tonnes per annum (Mtpa) of LNG and equity participation in a future expansion of ECA LNG.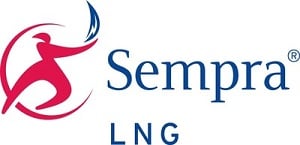 ECA LNG is being developed with IEnova, Sempra's unit in Mexico. Phase 1 of the project includes one liquefaction train with an export capacity of approximately 2.4 Mtpa. ECA LNG future expansion would include additional trains with an expected export capacity of roughly 12 Mtpa.
Train 1 of the Cameron LNG Phase 1 project started commercial operations in August 2019. Trains 2 and 3 are expected to begin production in the first quarter and second quarter of 2020.
Net exporter
In late October, the U.S. Energy Information Administration (EIA) said that from January through June of 2019, U.S. net natural gas exports averaged 4.1 billion cubic feet per day (Bcf/d). That was more than double the average net exports in 2018 (2.0 Bcf/d). The U.S. became a net natural gas exporter on an annual basis in 2017 for the first time in almost 60 years.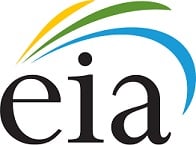 EIA said that the U.S. exports natural gas by pipeline to Canada and Mexico and exports liquefied natural gas (LNG) to several other countries. Much of the recent increase in total exports is a result of more LNG facilities coming online.
Total U.S. exports of LNG through the first half of 2019 were 37% higher compared with the same period in 2018. Total U.S. LNG export capacity as of June 2019 was 5.4 Bcf/d across four facilities and nine liquefaction trains.
EIA said that future global growth in natural gas consumption is likely to be concentrated in developing nations outside of the Organization for Economic Cooperation and Development (OECD) and especially in non-OECD Asian countries that include China, India, Bangladesh, Thailand and Vietnam.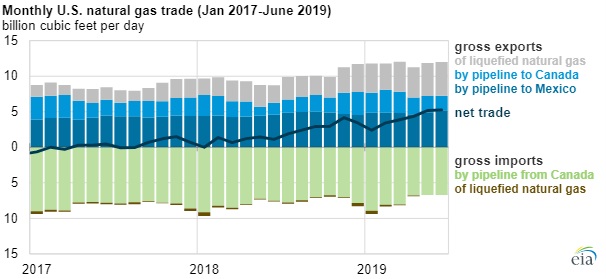 Source: EIAAnnual natural gas consumption in non-OECD Asia is forecast to reach 120 billion cubic feet per day (Bcf/d) by 2050, outpacing regional production by 50 Bcf/d. This supply imbalance is expected to widen through the projection period, resulting in non-OECD Asia's increasing reliance on natural gas imports from other regions, such as the U.S.
EIA said it expects net natural gas exports to continue rising through the end of 2019 as additional LNG export capacity comes online and natural gas pipeline infrastructure in Mexico is placed into service. Net natural gas exports are forecast to average 4.6 Bcf/d in 2019 and 7.2 Bcf/d in 2020.
Sempra projects
Cameron LNG Phase 2 could include up two additional liquefaction trains and two additional LNG storage tanks. Mitsui is also an equity owner of Cameron LNG, LLC, the development company for Cameron LNG Phase 1 and Phase 2.
Sempra LNG and Mitsui are also working to negotiate and finalize a 20-year LNG sales-and-purchase agreement for the potential purchase of 0.8 Mtpa of LNG from the ECA LNG Phase 1 project.
Sempra LNG plans to develop five LNG projects in North America with a goal of exporting 45 Mtpa of natural gas to world markets.