MHI christens LNG carrier for US exports
David Wagman | September 05, 2019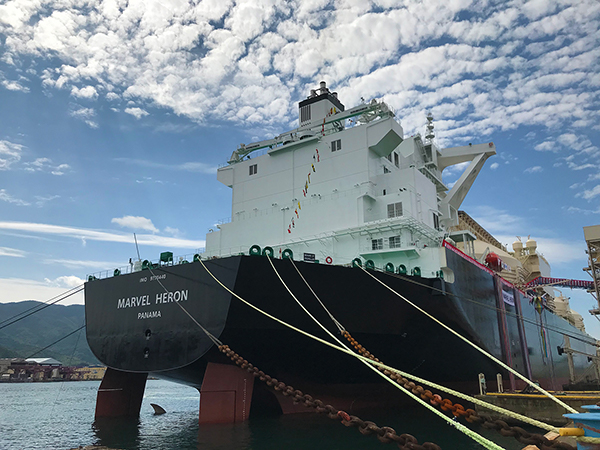 The Marvel Heron will carry LNG cargoes from Louisiana. Source: MHI
Mitsubishi Shipbuilding Co. christened a liquefied natural gas (LNG) carrier being built for Mitsui & Co. to transport LNG for the Cameron LNG export terminal in Louisiana.
The ship, named Marvel Heron, was built in Japan and is scheduled to go into service in September.
The ship is the second LNG carrier of its type built by Mitsubishi Shipbuilding for Mitsui, which is a partner in the Cameron LNG venture. It features an overall length of 297.5 m, a width of 48.94 m, a depth of 27.5 m and a draft of 11.4 m. Deadweight capacity is roughly 79,000 tons, and the total holding capacity of the tanks is 177,000m3.
The vessel is equipped with apple-shaped tanks, which results in increased LNG carrying capacity while keeping the ship's beam within the parameters of passage through the Panama Canal. Ship propulsion is performed by a hybrid system combining a steam turbine and gas-fired engines. It consists of a high-efficiency reheat ultra steam turbine, a dual-fuel diesel engine that accommodates both gas and oil, and an electrically propelled engine. Waste heat from the engines drive the turbine, enhancing the ship's energy efficiency.
Cameron LNG's partners include Sempra LNG, Mitsui & Co., Mitsubishi Corporation, Total and NYK Line. In mid-August, Cameron LNG said that Train 1 of its liquefaction-export project began commercial operations. Train 1 includes a projected export capacity of 4 million tonnes per annum of LNG.