Daimler begins self-driving truck tests on highways in Virginia
Peter Brown | September 10, 2019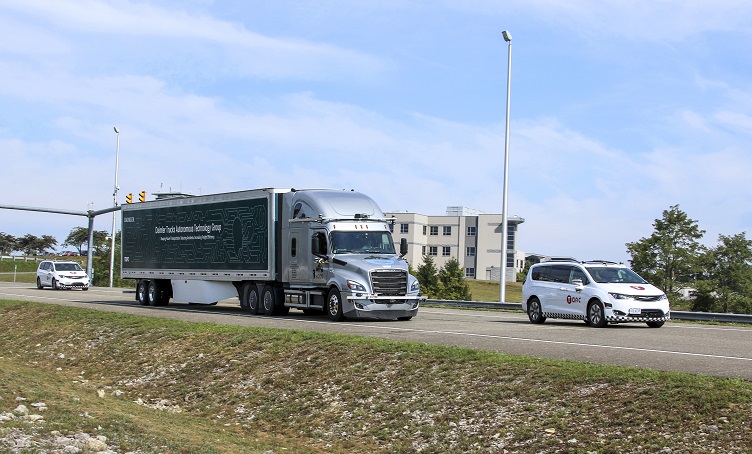 Daimler is beginning real world testing of autonomous trucks on highways in Virginia. Source: Daimler
Daimler Trucks has started testing trucks with SAE Level 4 autonomous driving technology on public highways in southwest Virginia.
The testing will involve recently acquired Torc Robotics. There, Daimler will oversee the automated system and monitor safety drivers that will be specially trained in vehicle dynamics and automated systems. The deployment on public roads will take place after the company has been working on the technology with trucks on a closed loop track.
Daimler said on-road validation is an essential building block for deploying automated technology at scale.
After Daimler took a majority stake in Torc, the company was also folded into the newly established Autonomous Technology Group of Daimler Trucks. As part of this move, Daimler has consolidated all of its automated driving activities into the global organization with locations in Blacksburg, Virginia, and Portland, Oregon.
Torc has been testing its Asimov self-driving technology for heavy-duty commercial vehicles in urban and long-distance routes as well as in the rain, snow, fog and varying light conditions.
Daimler is working on a truck chassis suited for highly automated driving as well as redundancy of systems for reliability and safety. Additionally, the company is building an infrastructure required for operational testing of initial applications cases, including a main control center and logistics hubs where customers operate and within close proximity of interstates and highways.