Daimler and Torc expand public road testing for self-driving trucks
Peter Brown | February 19, 2020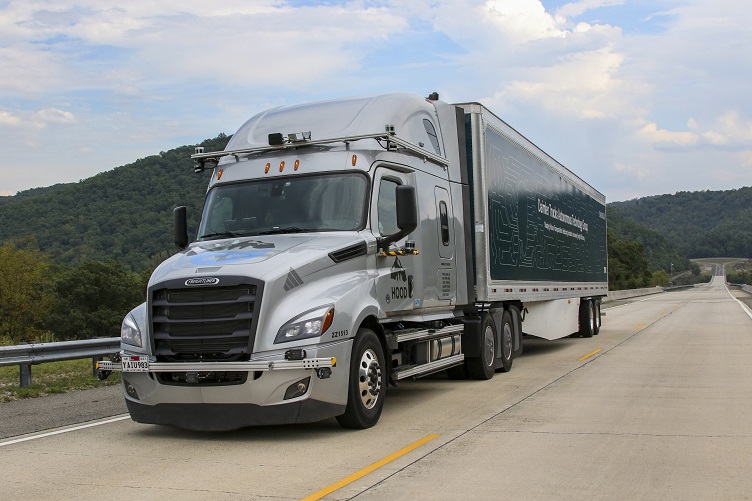 Torc and Daimler will start using autonomous trucks in more routes to ramp up data gathering. Source: Daimler
Daimler Trucks and Torc Robotics will expand testing of its autonomous technology on new public road routes in the U.S.
Last year, Torc and Daimler started public road testing in Virginia, the home of Torc's headquarters. The testing was designed to collect data from real-world traffic scenarios beyond what could be done with computer simulations or closed road courses.
While this testing will continue in Virginia, new routes will be taken to collect more data on different areas of the country. The goal is to completely validate the trucks before they hit the road by testing them in real-world environments and collaborating with drivers, regulatory affairs and community stakeholders.
During the public road testing, an engineer oversees the system and a trained safety driver that holds commercial driver's licenses rides inside the trucks in order to gather data and potentially take over if necessary.
Torc's Asimov autonomous driving system has been tested on public roads with zero accidents including a cross-country journey. During testing, the companies have developed a validation approach and safety protocols for automated driving and are aligned with the federal framework policy for testing and commercial deployment of SAE Level 4 automated trucks.
The Asimov SAE Level 4 virtual driver system has been tested on public roads from urban to long-distance highway routes as well as in rain, snow, fog and varying light conditions.
"We have always said that commercializing road-ready Level 4 vehicles is a marathon, not a sprint," said Michael Fleming, CEO of Torc Robotics. "By partnering with Daimler Trucks, the inventor of the truck and market leader of the industry, we believe the technology will be introduced safely and reliably."