Beresheet moves into lunar orbit
Nancy Ordman | April 05, 2019
The moon captured Israel's Beresheet spacecraft on April 4, 2019. Mission engineers cheered.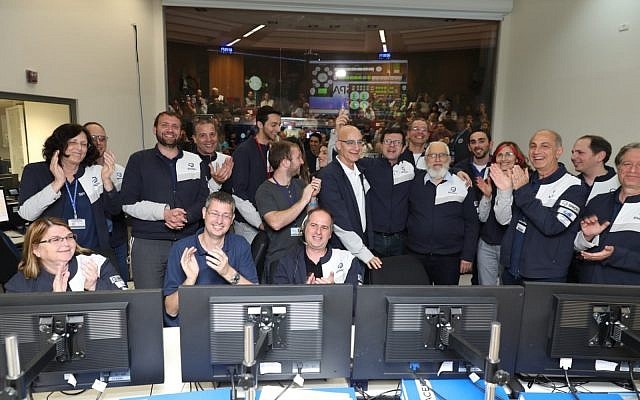 Engineers celebrate in the Beresheet control room on April 4, 2019, after announcing the moon's gravitation pull has most likely successfully captured the Beresheet spacecraft. Source: Eliran Avital/courtesy BeresheetSpaceIL engineers ordered the engine on board the compact craft to execute a precise engine burn that allowed the moon's gravity to grab onto Beresheet and swing it into an orbit 290 miles above the lunar surface. The initial burn corrected the craft's position, followed by a second burn that reduced Beresheet's speed to about 4,660 miles per second from 5,282 miles per second. The entire maneuver lasted about nine minutes. If the maneuver had failed, the mission would also have failed.
This was the latest in a series of course corrections executed since Beresheet launched from Cape Canaveral, Florida on February 21. An early glitch caused by a spontaneous computer reboot delayed an engine burn that extended the spacecraft's orbit around the earth. Project engineers succeeded in carrying out the delayed burn and to compensate for problems with Beresheet's star tracker, which provides navigation information. All subsequent maneuvers were executed precisely as planned.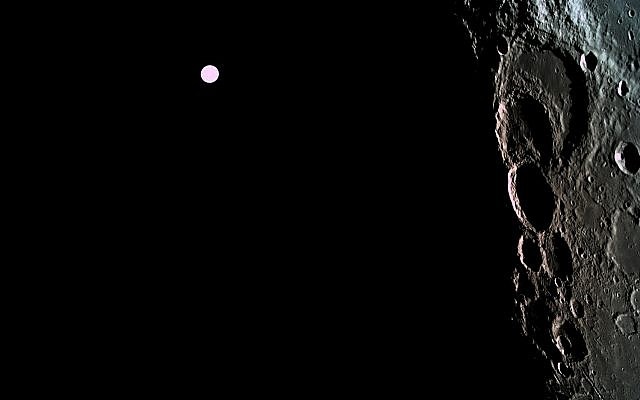 The Earth in the background on April 5, 2019. Source: BeresheetAs Beresheet orbits the moon, it will gradually decrease its distance above the lunar surface until April 11, when it will attempt its soft landing in the Sea of Serenity. Yonatan Winetraub, SpaceIL's co-founder and one of three friends who envisioned the mission, commented that the orbital insertion is a milestone that brings the landing one step closer.
The landing process is possibly the most difficult maneuver of Beresheet's entire journey.
"There is a significant chance we have a crash landing," said Opher Doron, the space division general manager at Israel Aerospace Industries. "It's very dangerous, and it's difficult to predict if we'll succeed."
Israel became the seventh nation to place a spacecraft into lunar orbit. Other members of the club are the U.S., Russia, Japan, India, China and the European Space Agency. If Beresheet successfully completes its lunar landing, it will be the fourth spacecraft to accomplish this feat and the first privately funded craft to do so. A successful landing will also earn Team Beresheet — including engineers from SpaceIL and Israel Aerospace Industries (IAI) and private donors — the Lunar Xprize foundation's Moonshot Award.