Lunar Xprize Foundation's Moonshot Award could go to SpaceIL, Beresheet
Nancy Ordman | April 03, 2019
The competition that helped inspire the development of Israel's privately funded lunar spacecraft will award SpaceIL $1 million when — and if — Beresheet touches down safely on the moon on April 11.
The California-based Lunar Xprize foundation announced the conditional award of the first Moonshot Award on March 28, citing SpaceIL's achievements thus far with its Beresheet spacecraft. SpaceIL, an original competitor for the Lunar Xprize, was the first to announce a launch contract and the only competitor so far to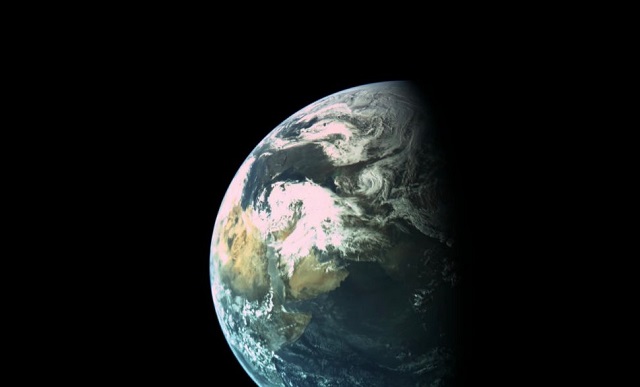 Israel's Beresheet lunar lander captured this image of Earth on March 31, from a distance of about 9,940 miles. The Arabian peninsula and southeastern Africa are visible. Image credit: SpaceIL/IAI)launch a spacecraft.
The original criteria for the $20 million grand prize included executing a soft moon landing, moving 500 m on a path on or above the lunar surface, transmitting two moon casts and completing a data uplink, by the March 31, 2018, deadline. The Lunar Xprize team decided to terminate the competition at that point since none of the five finalists had launched a spacecraft, much less landed on the moon.
SpaceIL's ongoing determination to develop, launch and land Beresheet despite the original award's cancellation inspired the Xprize Foundation to create the new Moonshot Award. Other former competitors continue to progress towards their own launches, but Beresheet hopes to be the first to achieve a successful lunar landing.
Peter Diamandis, Xprize founder and chairman, said that the foundation will consider future Moonshot Awards for projects that are literal and figurative moonshots. Award funding comes directly from the Foundation and not Google, which funded the unclaimed prize.
Beresheet nears the moon
Since its February 21 launch from Cape Canaveral, the small, four-legged lunar lander has traveled several times around the earth in expanding elliptical orbits. The apogee of its current orbit matches the moon's distance from the earth, positioning the craft for injection into a lunar orbit. If this maneuver succeeds, Beresheet will execute a soft landing in the Sea of Serenity on April 11.
The SpaceIL team will soon know whether they will claim the Moonshot Award. SpaceIL and Israeli Aerospace Industries (IAI) engineers fired Beresheet's engines for 72 seconds on April 1, reducing its speed so that the moon's gravity can capture it April 4. Engineers are preparing for lunar capture by practicing various scenarios and situations in a lab. Beresheet will orbit the moon for seven days before attempting its historic landing.