Video: Portable paper-based device detects infectious diseases
S. Himmelstein | February 25, 2019
Access to laboratory-quality tests for the diagnosis of infectious diseases is frequently limited in resource-poor areas, and can also be constrained in more affluent regions impacted by viral disease outbreaks. A diagnostic device is under development at Purdue University to eliminate these barriers to timely determination of infectious disease.
The battery-powered handheld tool is designed for inexpensive and rapid diagnostics and can be deployed in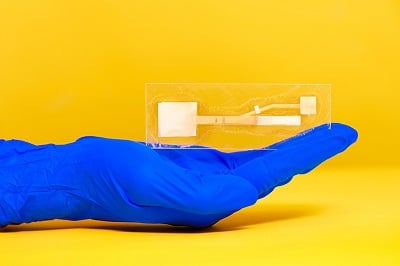 Researchers are harnessing the properties of paper to build faster, cheaper and more portable devices for detecting infectious diseases. Source: Purdue University photo/Rebecca Wilcoxthe home, eliminating the need for clinic visits, medical professionals and long wait times for results.
The technology relies on strips of a porous paper-like material that can become saturated and slowly move a liquid from one end to another. A reduced number of analytical steps, which starts with adding buffer liquid to a drop of blood within a vial, and then pouring the fluid into a hole within the paper, is expected to shorten diagnostic times. An electronic circuit heats wax valves from beneath channels in the paper to control fluid flow in one step and amplify the viral RNA. A positive result is returned if a band appears at the end of the paper strip.
The prototype detects HIV nucleic acids from the blood of a finger prick within 90 minutes. The researchers are now extending the platform to the detection of cholera, whooping cough and other diseases, and plan to trial the device for HIV diagnosis in Kenya and cholera in Haiti. Field tests in rural Indiana are expected to confirm its utility in U.S. communities with limited staff and scattered facilities.