Watch blood plasma separation with a fidget spinner
S. Himmelstein | January 28, 2019
The popular fidget spinner toy has been promoted as helping people who have trouble focusing as a means to relieve nervous energy, anxiety or psychological stress. While these claims have yet to be proven, the whirling device has inspired its use as a simple, hand-powered centrifuge platform to separate blood components for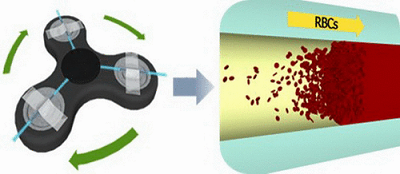 Blood samples in three small tubes were taped to the three lobes of a spinner. Source: American Chemical Societymedical diagnostics.
In testing a commercially available fidget spinner, researchers from Taiwan demonstrated the centrifugal force provided by this inexpensive toy is sufficient to separate whole blood in four to seven minutes. Blood-filled tubes were attached to each of the spinner's three lobes, and a plasma yield rate and purity of 30% and 99%, respectively, were achieved after flicking it three to five times.
The separated plasma was verified for diagnostic analysis by performing a paper-based HIV-1 protein enzyme-linked immunosorbent assay, which achieved a recovery rate of up to 98%. The platform is considered reliable for practical use, especially for diagnostic application in resource-limited regions.
The fidget spinner-turned-centrifuge is one of several inexpensive and easily-obtainable diagnostic and screening tools announced in the past year that enable accurate medical tests in under-resourced locations. These tools include a diabetes screening device, a 20-minute infectious disease assay and an early detection method for HIV infection.
This new use for the fidget spinner was discovered by researchers from National Taiwan University, Chang Gung Memorial Hospital and Chang Gung University College of Medicine.