Biosensor Detects HIV One Week After Infection
Engineering360 News Desk | March 19, 2017
A biosensor that detects type 1 HIV during the first week after infection was engineered by researchers from the Spanish National Research Council (CSIC).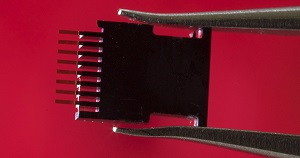 The biosensor could yield clinical results within five hours. Image credit: Joan Costa/CSIC CommunicationThe total test time is 4 hours, 45 minutes, meaning clinical results could be obtained on the same day. Available diagnostic techniques detect HIV in blood at two to four weeks after infection.
The technology is capable of detecting the p24 antigen, a protein present in the HIV-1 virus, at concentrations up to 100,000 times lower than the previous generation of approved immunoassays methods and 100 times lower than methods for detecting viral RNA in blood.
The biosensor combines micromechanical silicon structures with gold nanoparticles, both functionalized with p24-specific antibodies. At the end of the immunoassay procedure, p24 is sandwiched between the gold nanoparticles and the micromechanical silicon structures. The gold nanoparticles have optical resonances known as plasmons, which are capable of scattering light very efficiently. The combination of these two structures produces both mechanical and optical signals that amplify one another, producing remarkable sensitivity, to detect the p24.
The researchers have patented the technology, which is also being applied toward early detection of certain types of cancer.