Introduce a girl to engineering
Marie Donlon | February 21, 2019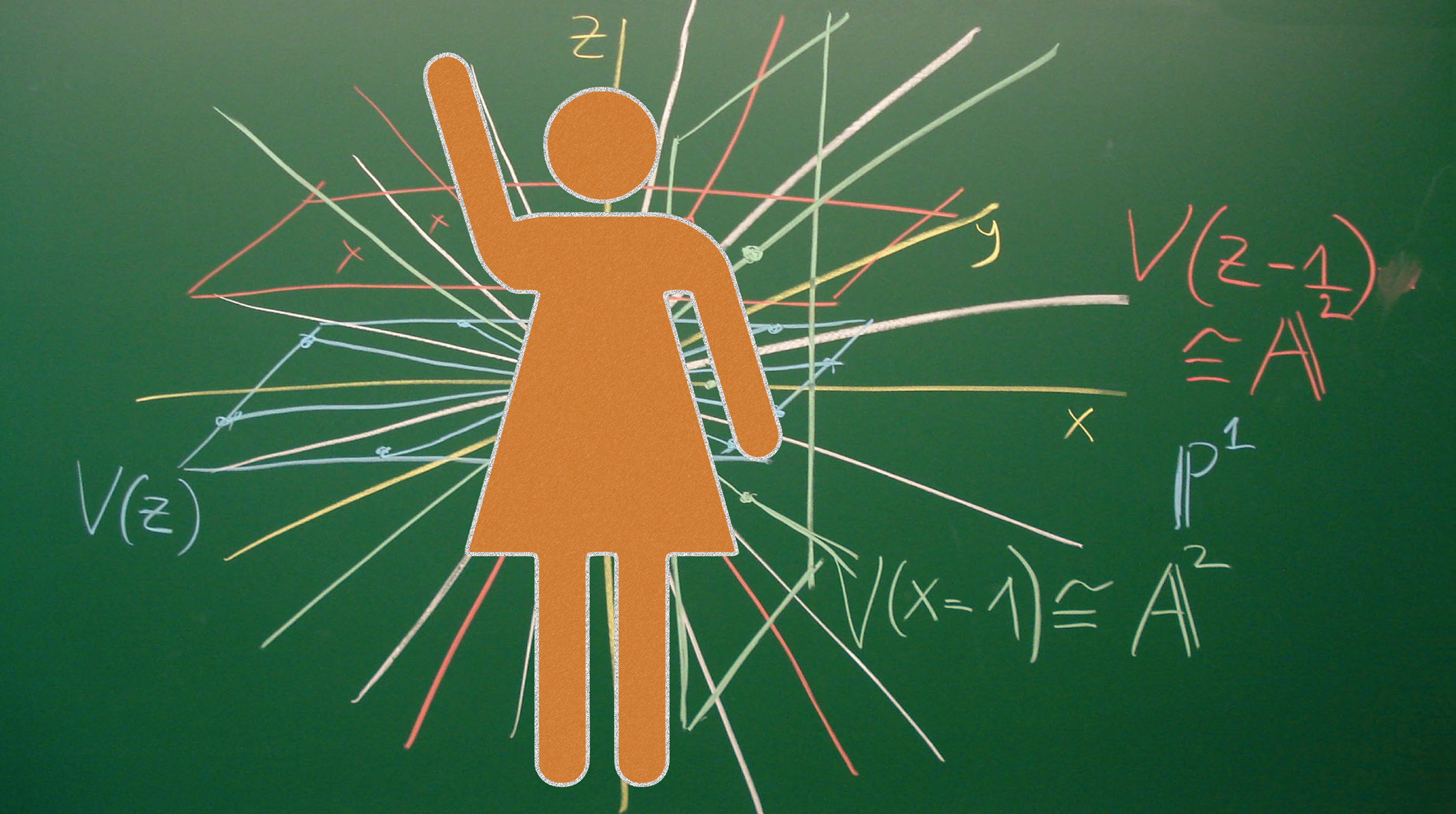 Source: Eryk/CC BY-SA 4.0Introduce a Girl to Engineering Day falls on February 21 and highlights the importance of exposing young girls to engineering and other STEM (science, technology, engineering and math)-related occupations.
Key to reversing chronic underrepresentation in those fields is introducing young girls to engineering and STEM fields earlier in life. There are a number of ways to do so, some of which parents and teachers may already be doing.
Introduce them to a role model who works in the STEM field
Know a female engineer? A female scientist? A female astronaut? Connect girls with women who actually work in the STEM field. Having a real-life role model will show them the possibilities in those fields. If that role model happens to also be a parent already working in a STEM occupation, all the better.
According to a study conducted by researchers from the University of Michigan and the University of Arkansas, girls with one parent or guardian working in STEM are more likely to enroll in college degree programs such as math, computer science, engineering and architecture.
According to the research, having a parent working in a STEM field increased the chances of girls majoring in STEM-related subjects by 11 percentage points. And that number increased by 25 percentage points when researchers expanded the STEM definition to include life, social and physical sciences.
In the absence of access to female engineers or women working in other STEM-related fields, take your daughters to female doctors and dentists so they can see women working in STEM roles.
Read them a book
There is no shortage of books available to young girls these days that are designed to inspire them toward a STEM career. One noteworthy title is "Rosie Revere Engineer" by Andrea Beaty. The book follows elementary-school aged Rosie Revere as she works on plans for building a contraption that would enable her great aunt to fly. Yet, Rosie keeps her creations to herself as she has been humiliated at past failed attempts. This story isn't just about female empowerment, it is also a lesson about the necessity in failure.
Other books to engage young girls in similar fields include "The Most Magnificent Thing," also about a girl engineer using everyday objects to create, "Ada Twist Scientist," also by Beaty, and the STEM Girls series. Check out your local library for other book ideas.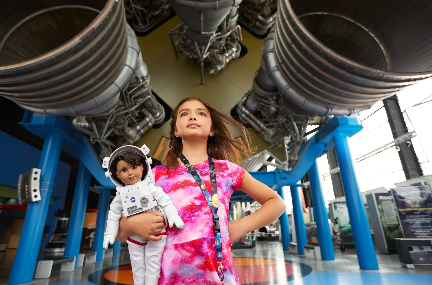 Source: American GirlLet them play with dolls
The American Girl Doll brand recently welcomed Luciana Vega to the family. Luciana is an 11-year-old who hopes to one day be the first person to reach Mars.
With input from a team of NASA scientists and astronauts, American Girl designed Luciana, outfitting her with a flight suit and astronaut gear. The team also worked together to develop STEM-based educational content for the doll-makers' website and apps where kids can take part in space simulations and complete STEM-based quizzes.
"It is so important to find exciting new ways to inspire our next generation of space explorers," Megan McArthur, NASA astronaut who serves on the project's advisory board, said in a NASA blog post. "I always want to encourage girls and boys to pursue their dreams, no matter how big, and I think it helps to show how those dreams can become reality for any kid."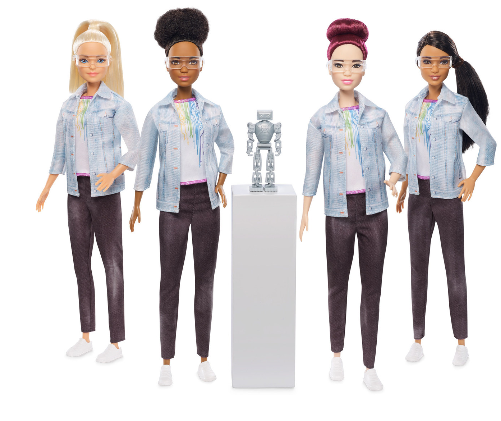 Source: MattelLet them play Barbies
At 59 years old, Barbie has undergone yet another career change — actually, several of them. Having tried out astronaut, developer, paleontologist and scientist, Barbie is now dipping her toe into engineering.
Bedecked with a laptop, safety glasses and robot accessory, Robotics Engineer Barbie arrived on the scene in 2018 and introduced coding to young girls in the shape of an accompanying workbook developed in conjunction with Tynker.
Toy maker Mattel said it hopes that the engineer toy can impress upon young girls the fact that they can go into male-dominated professions.
"We always have this issue in how do we get more females involved in engineering and STEM and technical skills," said Mattel's chief technology officer, Sven Gerjets. "For us it was to give them the inspiration."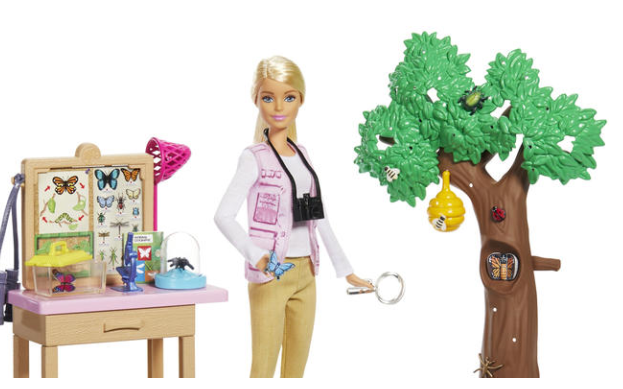 Source: MattelJoining Robotics Engineer Barbie in 2019 is another line of STEM-related Barbies created through a collaboration with National Geographic. Included will be Barbie with occupations such as wildlife conservationist, astrophysicist, entomologist, polar marine biologist and wildlife photojournalist to name a few.
Let them play Legos
LEGO in 2018 released its "Women of NASA" kit in a bid to attract young girls to the science of space exploration.
Featuring women with significant ties to the space agency, the mini-figures are made in the likenesses of astronauts Sally Ride and Mae Jemison, computer scientist Margaret Hamilton and astronomer Nancy Grace Roman.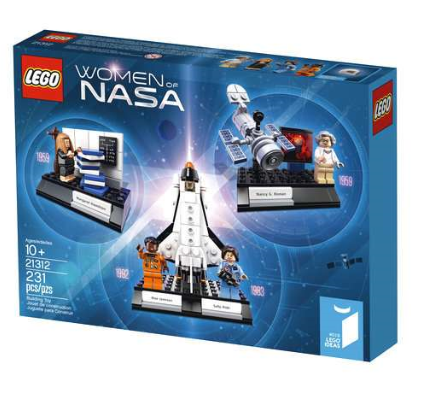 Source: LegoAlong with the figurines in the 231-piece kit are backdrops meant to represent the areas of work for each of the women represented. Among them are the Hubble Space Telescope and the Space Shuttle Challenger.
Sign them up for Girl Scouts
In an attempt to expose young girls to the STEM world at earlier ages, the Girl Scouts have introduced 30 different badges focused on the STEM disciplines.
Long-associated with cookies, the organization wants to also be associated with robotics, automotive design and the environment. The 30 new badges can be earned in a variety of STEM-related topics from introduction to robotics and engineering to advanced topics such as artificial intelligence (AI) and algorithms. Additional badges can be earned in programming, cybersecurity, space science and mechanical engineering.
By experiencing hands-on lessons in these disciplines, girls learn to problem-solve and develop new skills.
Let them play video games
Girl video gamers, otherwise known as "Geek Girls," are more likely to pursue physical science, technology, engineering and math (PSTEM) degrees than girls who do not "game," according to research from the University of Surrey.
According to the findings, 13- to 14-year-old girls who were classified as "heavy gamers" — playing more than nine hours' worth of video games each week — were three times more likely to seek a degree in the PSTEM subjects versus girls who did not play video games.
Likewise, researchers discovered that of the females already pursuing PSTEM degrees, 100% of them identified as gamers.
Dr. Anesa Hosein, the study's lead author, said she believes that identifying and targeting specific female groups earlier might inspire more females to study the PSTEM subjects, maybe even beyond degree level.
"Our research shows that those who study PTSEM subjects at degree level are more likely to be gamers," she said. "We need to encourage the girl gamers of today to become the engineering and physics students and pioneers of tomorrow."