A Portable Diabetes Screening Device Designed for Micronesia
S. Himmelstein | May 13, 2018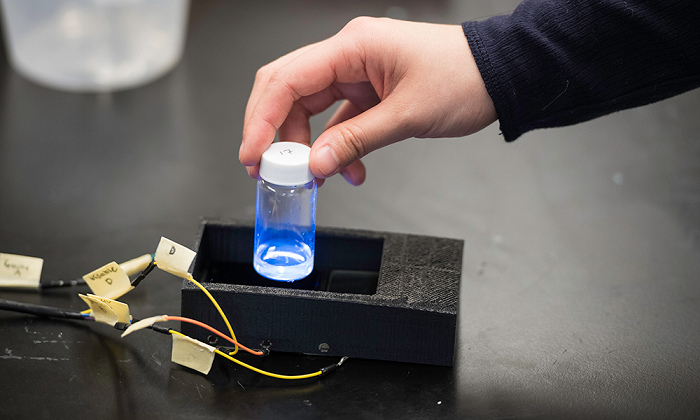 A vial containing quinine solution fluoresces during the testing of a portable diabetes screening device. The small black box is designed to screen for risks of diabetes without using blood samples, and can work in remote areas without refrigeration, power or cell service. Source: University of Rochester / J. Adam Fenster
Western civilization has brought many things to Micronesia, including a more relaxed lifestyle and convenience foods that have led to an increased incidence of diabetes. Poor access to electrical power and cell phone coverage in the mostly rural region complicates detection and treatment. The diagnostic devices commonly used in the U.S. are not portable and require constant refrigeration to store blood samples.
To fill this gap and introduce inhabitants to western medicine, biomedical engineering students at the University of Rochester, New York, are designing a portable diabetes screening device that could be carried by health workers into remote areas. This would make it easier to identify, on the spot, villagers at high risk of the disease.
The team expanded upon a Dutch technology that detects advanced glycation end-products, or AGEs, in skin tissue as a biomarker of diabetes and other age-related disorders. The AGEs auto-fluoresce and emit a photon when impacted by a photon of a certain wavelength.
A rectangular opening on top of the black box device admits a patient's arm for screening. A light bounces off the skin to detect the amount of AGEs present. Unlike the Dutch system, which must be coupled to a spectrometer as well as a power source, the new instrument includes less complex detectors and optics and a built-in energy source to enhance its portability.
Though the device still needs some fine tuning, the researchers hope to test the system on Pohnpei Island.