Digital and Analog Modes Merge in Microfluidic DiagnosticEn
Engineering360 News Desk | February 24, 2016
A portable device that identifies different disease biomarkers from small quantities of blood is under development by researchers at Switzerland's École Polytechnique Fédérale de Lausanne (EPFL). The battery-powered microfluidic diagnostic can quantify up to 16 different molecules -- or biomarkers -- in a blood volume of less than 0.005 milliliters.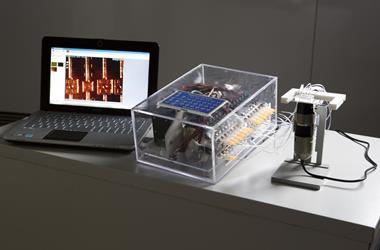 New microfluidic platform detects biomarkers for Ebola, other diseases, without complex equipment. Image source: Alban Kakulya. Initial testing has been carried out on a sample containing anti-Ebola antibodies, which indicate the presence of the virus in both symptomatic and asymptomatic patients. The blood sample can be loaded directly onto the device for on-chip biomarker quantitation without requiring any sample pre-treatment. This eliminates the need for blood plasma separation and the associated centrifuge equipment, large volume samples and long processing times.
The device is composed of both analog and digital detection mechanisms. By contrast, many conventional devices typically integrate one or the other. Digital detection is highly sensitive and can identify the presence of a single biomarker but is less effective when the biomarker concentration is too high, due to signal saturation. Analog measurements function best at higher biomarker concentrations.
Using these two detection mechanisms simultaneously, the composition of a drop of blood can be analyzed in a short amount of time. The analysis provides useful medical information, and could help doctors make an early diagnosis or determine the stage of a disease.