Watch the RemoveDEBRIS Satellite Net Simulated Space Junk
S. Himmelstein | September 19, 2018
A European Commission-funded consortium has designed and tested a net to capture a deployed target simulating a piece of space debris.
The RemoveDEBRIS satellite was launched aboard the SpaceX Dragon craft in April 2018 and was recently deployed from the International Space Station. The mission's goal is to evaluate different active debris removal systems on simulated targets in low-Earth orbit. RemoveDebris will also be used to test a camera- and LiDAR-equipped vision-based navigation system, a harpoon capture device and a drag-sail that will end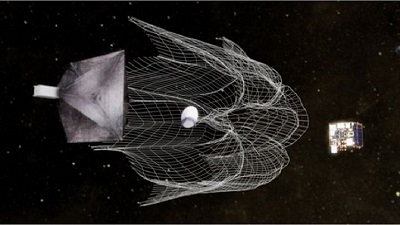 Artist's rendering of the net experiment. Source: Surrey Space Centrethe satellite's mission by bringing it into Earth's atmosphere.
The growing volume of space junk poses a threat to satellite operation and space missions. In 1996, a French satellite was hit and damaged by debris from a French rocket that had exploded a decade earlier. In 2009, a non-operational Russian satellite collided with and destroyed a functioning U.S. Iridium commercial satellite. That collision, which occurred at a speed of some 11.7 kilometers per second (7.3 miles per second), added some 2,000 more pieces of debris to the inventory of space junk.
RemoveDEBRIS is just one approach under development to help Earth take out its orbital trash, which includes systems that create atmospheric drag for this purpose, such as the use of an electromagnetic tether or parachute to cause an orbital shift.
Participants in the RemoveDEBRIS consortium include:
Mission and consortium coordination — Surrey Space Centre (U.K.)
Satellite system engineering — ArianeGroup (France)
Platform, avionics and spacecraft operations — SSTL (U.K.)
Harpoon — Airbus (U.K.)
Net — Airbus (Germany)
Vision-based navigation — CSEM (Switzerland)/INRIA/Airbus (France)
CubeSat dispensers — Innovative Solutions in Space (Netherlands)
Arget CubeSats — Surrey Space Centre (UK)/Stellenbosch University (South Africa)
Ragsail — Surrey Space Centre (U.K.)