Watch: World's Largest Offshore Wind Farm is Now Operational
S. Himmelstein | September 10, 2018
Walney Extension, the world's largest offshore wind farm, has officially opened in the Irish Sea off the Walney Island coast in Cumbria. The installed capacity of 659 MW is capable of powering almost 600,000 U.K. homes.
Owned by Danish companies Ørsted, PKA and PFA, the project features 40 MHI Vestas 8 MW turbines and 47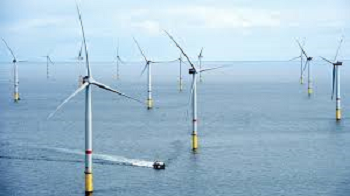 Source: ØrstedSiemens Gamesa 7 MW turbines over an area of 145 km2 (55 square miles). Completion of Walney Extension brings Ørsted's total capacity in the region to 1.5 GW, sufficient to power more than 1.2 million U.K. homes.
When inaugurated in 2020, Scottish Power Renewables' East Anglia One will be bigger at 714 MW. Ørsted has even larger schemes in the works, including Hornsea One and Two (1,200 MW and 1,800 MW, respectively) off the Yorkshire coast.
According to the Global Wind Energy Council, the U.K. is the largest offshore wind market, accounting for just over 36% of installed capacity.