World's largest wind farm enters operation
S. Himmelstein | September 02, 2022
Hornsea 2, touted by Danish energy giant Ørsted as the "world's biggest offshore wind farm," is now fully operational 89 km off the coast of Yorkshire, England. The project is situated alongside its sister wind farm Hornsea 1, which together can power 2.5 million homes.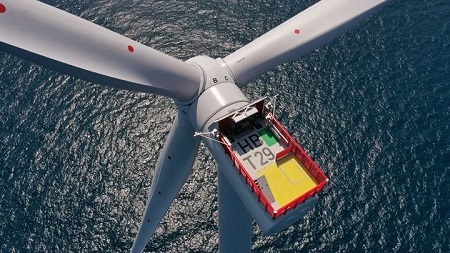 The 1.3 GW project will help power over 1.4 million U.K. homes. Source: Ørsted
The wind farm features 165 Siemens Gamesa turbines and a capacity of more than 1.3 GW to help power in excess of 1.4 million U.K. homes. One revolution of each 81 m-long turbine blade can power an average U.K. home for 24 hours. Power is transmitted via 390 km of subsea export cables to shore at Horseshoe Point in Lincolnshire.
The Hornsea Zone, an area of the North Sea covering more than 2,000 sq km, is also set to include the 2.8 GW Hornsea 3 wind energy project.