Video: Electrification Could Lead to Emission-free Quarry
S. Himmelstein | September 07, 2018
The feasibility of electrifying quarry operations is being weighed at a Skanska aggregate production mine near Gothenburg, Sweden. The 10-week pilot will implement Volvo Construction Equipment's Electric Site concept to electrify each transport phase, from excavation to primary crushing, and transport to secondary crushing.
While a negligible amount of diesel power will still be used, the project is expected to reduce carbon emissions by 95% and to reduce total operating costs by 25% while maintaining quarry output.
New concept machines, work methods and site management systems, including machine and fleet control systems and logistic solutions for electric machines in quarries, were designed for the project.
Eight smaller prototype HX2 autonomous, battery-electric load carriers replace three rigid haulers to transport the material from the primary mobile crusher up to the secondary static crusher. The primary crusher is loaded by the 70 ton dual-powered, cable-connected EX1 excavator prototype, based on a Volvo EC750 model that has been upgraded to incorporate an electric motor in addition to the diesel engine.
Volvo Construction Equipment's prototype electric hybrid wheel loader is deployed to organize piles of material. The LX1 provides up to a 50% improvement in fuel efficiency and reductions in air and noise pollution emissions compared to its conventional counterparts. The driveline of the series hybrid consists of electric drive motors mounted at the wheels, electric-driven hydraulics, an energy storage system, a smaller diesel engine and new machine architecture, including a new design of the lifting unit. With the new design and 98% new parts, the prototype can do the work of a wheel loader that is one size larger.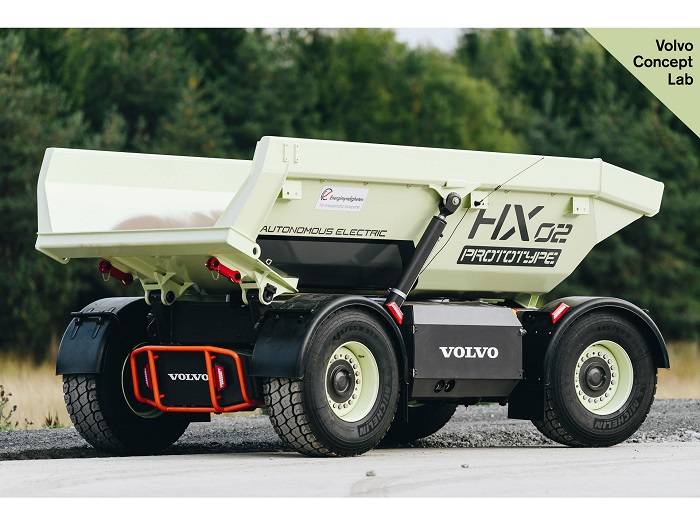 Prototype HX2 autonomous, battery-electric load carrier. Source: Volvo Construction Equipment