Underwater Robots Able to "Think" for Themselves
Engineering360 News Desk | May 08, 2015
A project developed by researchers from the Massachusetts Institute of Technology (MIT) is giving underwater robots more "cognitive" capabilities. The innovation allows engineers to lay out high-level goals and allow the robot to perform decision-making to determine how to achieve these goals.
"We wanted to show that these vehicles could plan their own missions, and execute, adapt, and re-plan them alone, without human support," says Brian Williams, a professor of aeronautics and astronautics at MIT, and principal developer of the mission-planning system.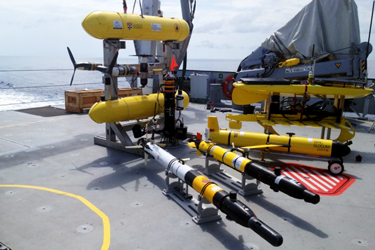 Several classes of the AUVs await deployment on the deck of the Falkor, off the coast of western Australia. Source: MITThe team tested the autonomous mission-planning element in March off the western coast of Australia. MIT engineers, along with groups from Woods Hole Oceanographic Institution, the Australian Center for Field Robotics and the University of Rhode Island, testing several classes of autonomous underwater vehicles (AUVs) and their ability to work together to map the ocean environment.
One of the tests, on an autonomous underwater glider, showed that the robot was able to receive and process higher-level commands while operating safely nearby other autonomous vehicles. Using the MIT team's system, it could plan a mission, decide which locations to explore, in what order and within a given timeframe. If an unexpected event occurred and the robot was unable to finish the task, it was able to reconfigure the hardware to recover from a failure in real time.
Williams and his colleagues will present the mission-planning system in Israel in June at the International Conference on Automated Planning and Scheduling.