Video: Navy Tests Underwater Wireless Recharging for Unmanned Undersea Vehicles
Peter Brown | August 31, 2017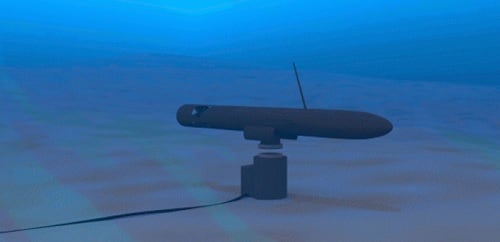 An artist's illustration of the recharging system. Source: SNWS PacificWe have already seen the U.S. Navy work on new submarine hulls through the use of 3D printing, but now they are testing an underwater wireless recharging system that could be used to power unmanned undersea vehicles (UUVs).
The UUVs the Navy uses for underwater surveillance to detect mines and to map the ocean floor rely on operators to recharge batteries at a land base or on a ship. Both of these methods are inconvenient as they expose the devices as well as impose limitations on remote autonomous operations.
The Space and Naval Warfare Systems Center (SNWS) Pacific is developing the system that would use wireless technology to take the recharging process out of an operators' hands and make it more autonomous.
"Unmanned and autonomous systems are used extensively for Navy missions and will continue to play a large role in future Navy and joint scenarios," says Dr. Alex Phipps, chief of the advanced integrated circuit technology branch at SSC Pacific. "While most of these systems are able to perform their mission without human interaction, limitations in the amount of power that can be stored place a limit on the overall system autonomy."
The Navy says this technology could be used for a wide array of missions with a UUV able to travel longer distances gathering intel from ports or areas of the world that surface ships or underwater craft can't go. This technology will also make missions safer as service members will no longer need to accompany the machine putting them in harm's way.