Automation to Hit Smaller Cities Harder than Larger Cities, According to Study
Marie Donlon | June 12, 2018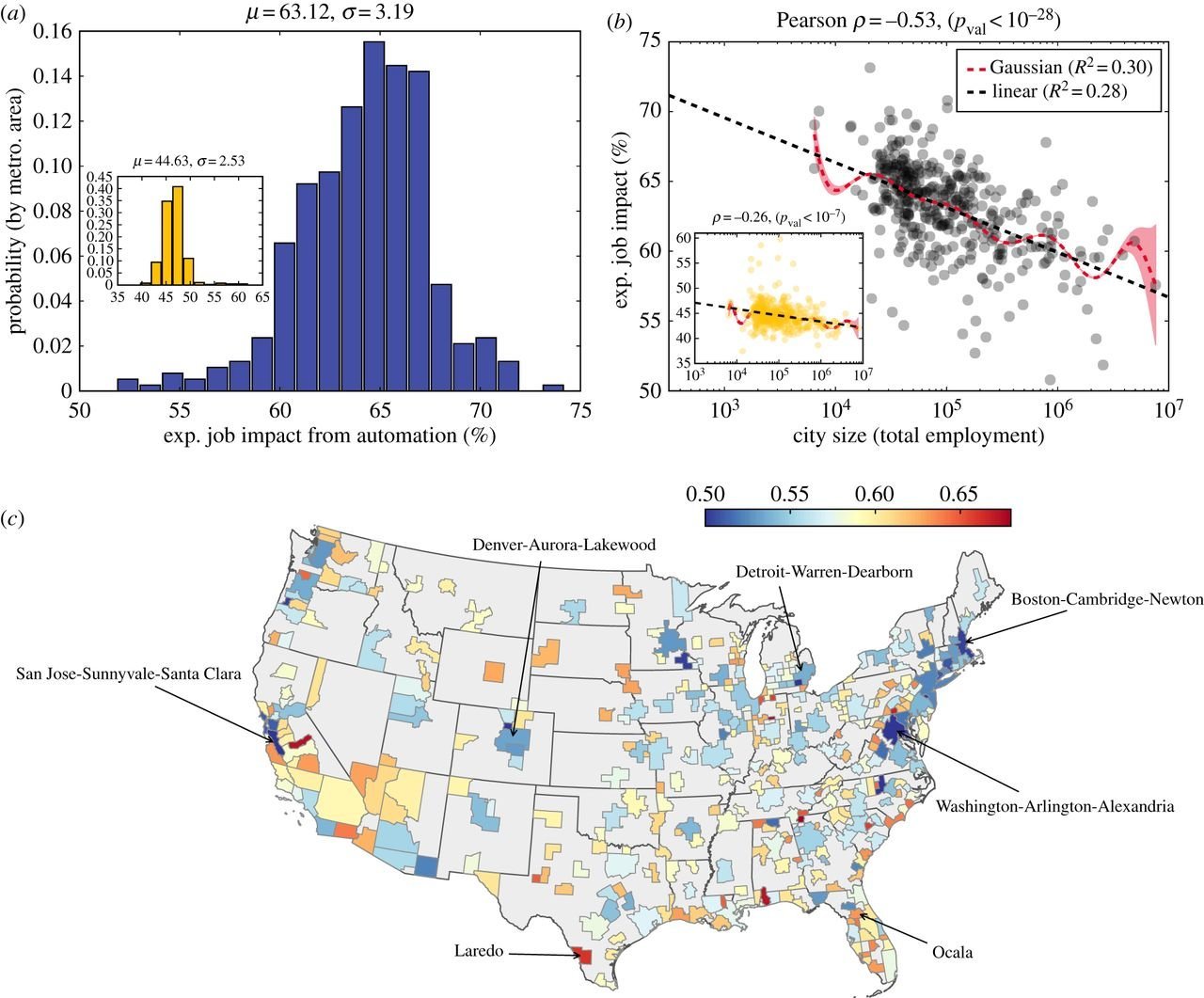 The impact of automation in US cities. (a) The distribution of expected job impact (Em) from automation across U.S. cities using estimates from Frey & Osborne. (Inset) The distribution using alternative estimates. (b) Expected job impact decreases logarithmically with city size using estimates from Frey & Osborne [12]. We provide the line of best fit (slope = − 3.215) with Pearson correlation to demonstrate significance (title). We also provide a Gaussian kernel regression model with its associated 95 percent confidence interval. (Inset) Decreased expected job impact with increased city size is again observed using alternative estimates (best fit line has slope −1.24, Pearson ρ = − 0.26, pval < 10−7). (c) A map of US metropolitan statistical areas colored according to expected job impact from automation. Source: Journal of The Royal Society Interface (2018). DOI: 10.1098/rsif.2017.0946 A study appearing in the Journal of the Royal Society Interface suggests that jobs lost to automation and other advances in technology will have a greater impact on those working in smaller cities than those working in larger cities.
The study, conducted by a team of researchers from MIT and Northwestern University's Kellogg School of Management, asserts that job loss thanks to automation will hit smaller cities harder than larger cities due to the types of jobs that dominate in those different geographic locals.
Because automation is expected to overwhelm jobs thought to be "simplistic" — for instance, positions such as ushers, waiters and salespeople — they will likely be dominated by automation because the skills necessary for such positions are simple to program into a machine, according to the study.
Applying that information to data concerning geography and sociology, researchers determined that because smaller cities have a wealth of "labor-intensive" professions that require less skill while larger cities tend to offer a greater number of jobs requiring skill sets that are less likely to be automated (lawyers, school teachers), the team concluded that smaller cities were at greater risk of losing jobs to automation.