Technique Regenerates Dental Enamel
S. Himmelstein | June 05, 2018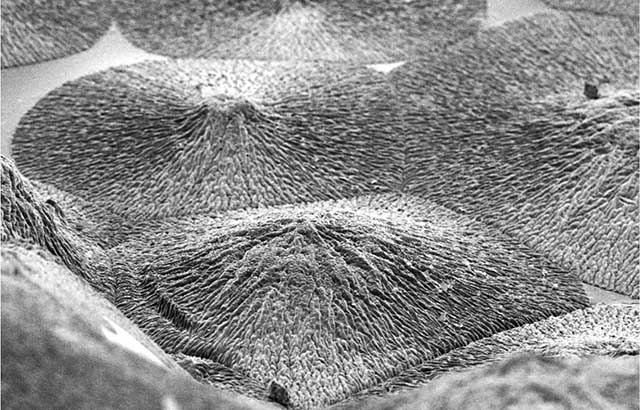 A close-up of the enamel-like material. Source: Alvaro Mata/Queen Mary University of London
Tooth enamel may be the hardest tissue in the human body, but it is unable to regenerate once it is eroded, resulting in diverse dental problems. Now, a new approach to growing synthetic mineralized materials developed by an international team of researchers may broaden the field of regenerative medicine, enabling regrowth of hard tissues including dental enamel and bone.
The method is based on a specific protein material that is able to trigger and guide the growth of apatite nanocrystals at multiple scales, mimicking their growth as dental enamel naturally develops in the body. The structures can be grown over large uneven surfaces and native tissues as acid-resistant membranes or coatings with tunable hierarchy, stiffness and hardness.
The technology could be used to develop acid resistant bandages that infiltrate, mineralize and protect exposed dentinal tubules of human teeth for the treatment of dentin hypersensitivity.
Scientists from Queen Mary University of London, University of Trento (Italy), Imperial College London, University of Valladolid (Spain), Yokohama Institute for Earth Sciences (Japan) and the Italian Space Agency contributed to this research, which is published in Nature Communications.