Synthetic Tooth Enamel Toughens Structures
Engineering360 News Desk | April 02, 2017
A composite material developed at the University of Michigan could be used to fabricate more durable, vibration-resistant structural components for airplanes, automotive electronics, and other applications.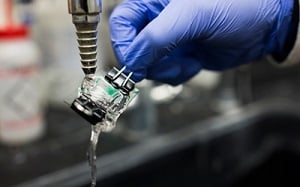 Growing zinc oxide nanopillars and layering polymer over them. Credit: Evan Dougherty, Michigan Engineering Communications & MarketingThe material is an abiotic tooth enamel. Natural enamel is composed of columns of ceramic crystals infiltrated with a matrix of proteins. This structure is effective at absorbing vibrations because the stiff nanoscale columns bending under stress from above create a lot of friction with the softer polymer surrounding them within the enamel. A large contact area between the ceramic and protein components further increases the dissipation of energy that might otherwise damage it.
The researchers engineered a tooth enamel-inspired composite material by growing zinc oxide nanowires on a chip. Two polymers were layered over the nanowire, spinning the substrate to disperse the liquid and baking it to cure between coats. It takes 40 layers to build up a single micron of enamel-like structure, and the process is repeated up to 20 times (see video).
The synthetic tooth enamel demonstrated high stiffness and viscoelasticity, but low density, and approached the ability of real tooth enamel to defend itself from damage due to vibrations. Computer modeling confirmed that the structure diffused the forces from vibrations through interaction between the polymer and columns.