Synthetic enamel coating mimics natural tooth enamel in the lab
Marie Donlon | February 10, 2022
A synthetic covering that mimics natural tooth enamel has been developed by researchers from China's Beihang University, the Peking University School and Hospital of Stomatology and the Michigan Institute of Translational Nanotechnology.
In a bid to create solutions for the damage and wear of natural tooth enamel, the researchers mimicked the properties of natural tooth enamel to create its synthetic covering.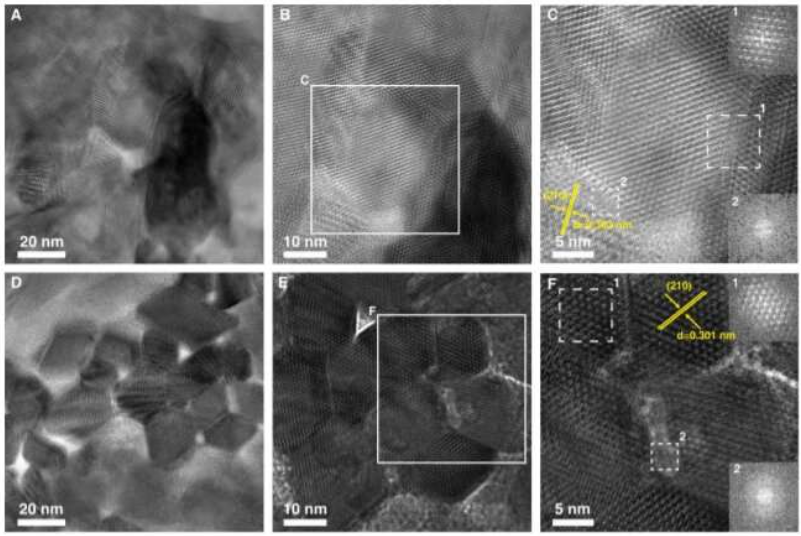 EM and HRTEM images from the cross direction of natural enamel and ATE. (A-C) Images for natural tooth enamel. (D-F) Images for ATE. It is clear that the HAP nanowires are aligned and the AIP layer is present between HAP nanowires in both natural tooth enamel and our ATE. Source: DOI: 10.1126/science.abj3343
To accomplish this, the team created material composed of amorphous intergranular phase (AIP)-coated hydroxyapatite nanowires aligned in parallel via a freezing technique and the application of polyvinyl alcohol.
According to the researchers, this combination enabled the team to replicate the strong and durable properties demonstrated by the tightly packed calcium rods found in natural tooth enamel.
Applied to assorted tooth-shaped objects in the lab, the synthetic enamel coating proved to outperform natural enamel in most tests. The team expects to eventually test the synthetic enamel coating under harsh conditions, such as those found in the human mouth, and to test the safety of the coating on human health. Likewise, the team believes the enamel could be used to coat pacemakers and repair bone damage in addition to preventing enamel wear and damage.
The article, Multiscale engineered artificial tooth enamel, appears in the journal Science.