Video: Army Investigates Using a Third Arm Exoskeleton to Improve Soldier's Performance
Peter Brown | May 31, 2018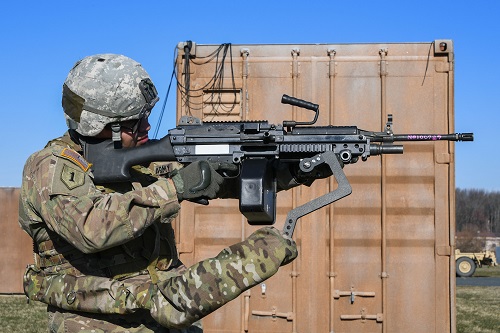 The third arm provides better marksmanship and support for heavier weapons. Source: ARL
Researchers at the U.S. Army Research Laboratory (ARL) have developed a new system that helps to improve the lethality of soldiers by giving them a third arm that can help distribute the weight load of a heavy weapon.
The third arm doesn't need batteries, weighs less than four pounds and allows soldiers to better stabilize a weapon to improve marksmanship.
"It can help stabilize the weapon and take the load off of their arms," said Dan Baechle, a mechanical engineer at ARL. "It's made from composite materials to make it as light as possible, but also to ensure the range of motion that soldiers need."
ARL tested the third arm with the M249 and M240B machine guns that weigh about 27 pounds and were able to show that it was able to take the weight of that weapon completely off the soldier's arms.
The initial versions of the system didn't make it possible for soldiers to go into a prone position, but the newer version was tested using an M4 type weapon allowing soldiers to dive into a prone fighting position from a sprint.
"Right now it's a prototype device, and it's a fairly early stage prototype device," Baechle said. "It's been getting a lot of interest higher up in the Army, but also online with some of the stories that have come out. We're using some of the interest to help motivate further development of the device."
The third arm is part of the army's Modernization Priorities that include enhancing soldier's lethality, which spans all fundamentals of shooting, moving, communicating, protecting and sustaining.
In testing of the device, ARL found that active-duty troops using the third arm improved marksmanship, reduced arm fatigue and muscle activation.
"We're using that small study to motivate a larger study this year with more soldiers taking a look at dynamics, shooting scenarios," Baechle said. "We're still refining the device. We're starting to look at heavier weapons."