AI Program Names Boston the New Amazon HQ2
Nancy Ordman | March 13, 2018
Which U.S. city will win the big prize in the Amazon HQ2 competition? Wells Fargo bank's artificial intelligence system says Boston will be the winner.
The bank shifted its stock-picking AI system, named AIERA – short for Artificially Intelligent Equity Research Analyst – to calculating the odds for the 20 shortlisted candidate cities. Using deep learning, the program digested variables like media sentiment, macro analysis and how Amazon stock price reacted to news coverage to come up with its winning city. Runners-up are, in order, Chicago, Atlanta, New York City and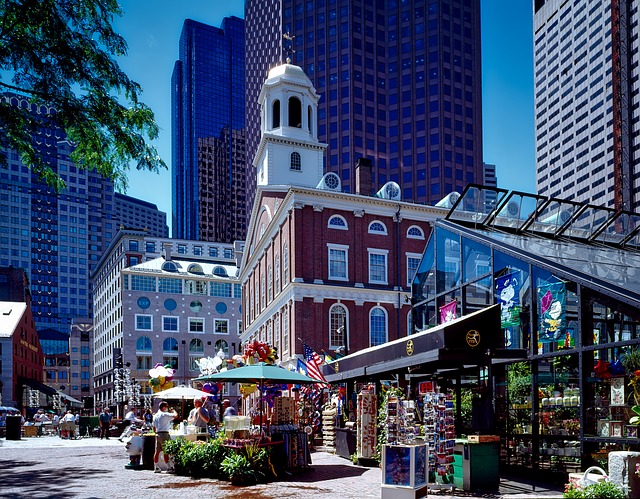 Faneuil Hall, Boston. Toronto.
About its choice, AIERA said that based on all of its measures "it is fair to characterize [Boston] as what the broader public and the market believes will happen when Amazon announces their decision later this year."
When Wells Fargo rolled out AIERA in October 2017, two of its initial recommendations were to sell shares of Google and Facebook, perhaps not its finest hour. Human analysts disagreed with the call. Wells Fargo stock analysts worked with an Amazon data scientist to develop the bot.
Other pundits have weighed in with predictions. In January, Business Insider combined seven rankings and dubbed Atlanta as the city that grabs the brass ring, followed by Boston and Austin. Washington, D.C. and Denver are in fourth and fifth place, respectively. Then in February, the same publication featured predictions from Scott Galloway, an NYU marketing professor who correctly predicted that Amazon would acquire Whole Foods. Galloway's choices are either the New York City metro area or the Washington, D.C. metro area. Amazon listed Newark, N.J. Montgomery County, Maryland and Northern Virginia as finalists. Christopher Steiner, writing in Forbes earlier in March, says that D.C. will win because Amazon management will need proximity to federal regulators to be successful.
One less-expected oddsmaker has weighed in, giving Boston 3 to 1 odds of winning – Irish gambling site Paddy Power.
The Amazon site selection team is visiting finalists in advance of their final decision, which is expected later this year. The winner could gain up to 50,000 jobs as HQ2 grows.