There are few options for cardiac patients facing heart transplantation procedures. Donor hearts may not be readily available, and the one artificial heart approved by the U.S. Food and Drug Administration – the SynCardia Total Artificial Heart – is only meant as a bridge to a transplant.
An artificial heart that may one day serve as a long-term replacement is now under development at the Oregon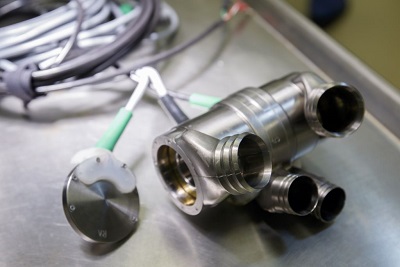 Two ventricles of the human heart are replaced with a titanium tube housing a hollow rod that shuttles back and forth. Source: OHSU/Kristyna Wentz-GraffHealth & Science University (OHSU). The new device is intended to be applicable to patients as young as 10 years old and should also fit most adults.
The design is simplified, incorporating few parts that are subject to failure. A titanium alloy rod oscillates back and forth within a titanium tube, moving blood to absorb oxygen in the lungs and transport it to the rest of the body. It is the only moving component of the artificial heart, and simulates a pulse-like blood flow to minimize blood damage and clotting risk. There are no valves to wear out or become calcified, further extending the utility of the new heart.
The artificial heart is powered by controller and portable rechargeable battery pack backed up by a battery that can be carried by the patient. Future efficiency improvements can lead to implantable batteries that are externally rechargeable.
An initial device designed by OregonHeart, a spinoff company created by the university, was demonstrated as a proof of principle when implanted in cows. A second iteration was small enough to fit in humans and was used for short-term testing in sheep.