Rescuing Failing Hearts
Larry Maloney | June 25, 2015
Heart failure. It is a numbers game with far more losers than winners.
The American Heart Association reports that in the U.S. alone, nearly six million people suffer from a weakened heart that fails to pump sufficient blood and oxygen to vital organs. About 670,000 new heart failure cases are diagnosed each year, and more than 250,000 Americans die from the illness annually.
Living with a failing heart typically limits physical activity and requires a complex cocktail of medications to lower blood pressure and heart rate, remove excess fluids and boost the heart's pumping ability.
As their condition deteriorates, the only long-term solution for many patients often is a heart transplant. However, most patients do not qualify for that procedure because of age or advanced disease. Moreover, only about 2,500 hearts are available for transplant each year in the U.S., a fraction of the need.
In recent years, however, technology has offered an increasingly viable alternative for many heart failure patients; implanted electromechanical heart pumps. Attached to the aorta and left ventricle and linked to an exterior controller by a flexible driveline, these devices boost the natural heart's pumping function, often resulting in considerably improved health.
In 2014, about 6,500 left ventricular assist devices (LVADs) were implanted worldwide, surpassing the 4,000 total heart transplants. Many patients receive LVADs on a temporary basis as a "bridge to transplant." Former U.S. Vice President Dick Cheney became a "poster child" of sorts for the technology when he lived 20 months with the help of a Thoratec HeartMate II LVAD before receiving a heart transplant in March 2012.
However, as device makers improve their technology and address such issues as blood clotting and infection, cardiologists and government regulatory agencies increasingly turn to LVADs as a "destination therapy." INTERMACS, a North American registry that tracks trends in circulatory support devices at more than 150 hospitals, reports that LVADs were implanted for destination therapy in nearly 45% of the cases between 2012-2014—an increase of 8% prior to 2010.
Long Journey to Market
Such progress does not come easily. Exacting engineering requirements, the need to win acceptance from the medical community, long and expensive clinical trials to gain regulatory approval all have made LVAD development one of the most daunting challenges in the engineering world.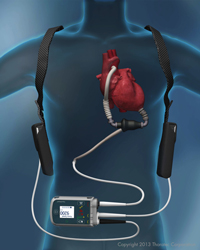 Thoratecs HeartMate II LVAD is implanted just below the diaphragm and attaches to the aorta. An external, wearable controller links to the implant via a driveline that passes through the skin. Image source: Thoratec"I estimate that I had to find about $400 million in investment money, engineering hours and medical services to bring this technology to the point where it became marketable," says engineer Victor Poirier, who developed the first LVAD in 1975 at Thermo Cardiosystems, gaining the first U.S. Food and Drug Administration (FDA) approval of LVADs for "bridge to transplant" in 1994.
Poirier's work progressed from early pulsatile pneumatic models that weighed 2.5 lbs to more compact and durable rotary electric devices that pumped blood in a continuous flow. Thoratec, a Californian medical firm, bought Poirier's technology in 2001. In 2003, its HeartMate XVE system became the first LVAD to win FDA approval for destination therapy.
Thoratec remains an industry leader, with some 20,000 total of LVAD implants worldwide. Its HeartMate II model (which received FDA approval for destination therapy in 2010) measures three inches in length, weighs 10 ounces and can pump up to 10 liters of blood per minute—enough to cover the full output of a healthy heart. The device is implanted just below the diaphragm in the patient's abdomen and attached to the aorta. An external, wearable system that includes a controller and batteries links to the implant via a driveline that passes through the skin. In 2014, the HeartMate product line notched $416 million in global sales for Thoratec from more than 3,700 implants at some 350 medical centers worldwide.
Even though most LVADs are implanted in the most ill of heart failure patients–those designated as "class four"—INTERMAC statistics show an overall survival rate of nearly 80% one year after implant and almost 50% at five years later. Some patients have lived as long as a decade on the device.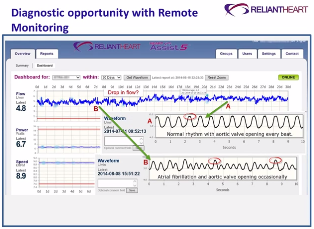 Doctors and other clinicians can remotely monitor pump performance for ReliantHearts LVADs."If you can implant an LVAD before patients begin to experience irreversible end-organ damage, the results can be dramatic," says Jeff LaRose, chief scientific officer of HeartWare, a second leader in the field. "Patients tend to respond very well and return to normal life, including work and outdoor activities."
Even so, LaRose acknowledges that the industry's biggest challenge remains in reducing adverse events associated with LVADs, such as bleeding, thrombosis, stroke and infections. "If we can continue to make progress, then we may see more cardiologists recommending these devices for a healthier class of patients, not just those in imminent danger of death."
Smaller, Safer, More User Friendly
To gain more acceptance for LVADs, device makers are crafting new designs and setting up clinical trials to demonstrate the technology. Thoratec is currently enrolling up to 1,028 patients for U.S. clinical trials of its HeartMate III LVAD. In 2014, the company completed enrollment in Europe for a CE Mark (Europe's conformity marking) study and expects commercial approval and market launch there late this year. Among the device's innovations:
Large blood flow gaps in the pump to reduce blood damage.
Magnetically levitated flow technology that reduces friction and minimizes patient complications by suspending the device's rotor.
Artificial pulse technology that assists pump washing to reduce the possibility of blood clots.
In addition, an engineered attachment makes it easier for surgeons to insert the device, which is implanted above the diaphragm. The wearable controller unit is also more compact.
Meanwhile, Thoratec's competitors are moving ahead on improvements of their own. Massachusetts-based Heart Ware, which sold 2,750 ventricular assist systems in 2014, received FDA approval of its heart ventricular assist devices (HVAD) pump in 2012 as a bridge to transplant and is now conducting clinical trials for U.S. approval of the device for destination therapy.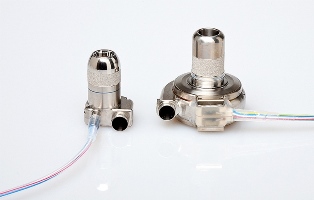 HeartWare is developing the MVAD which is one-third the size of its 5.5 ounce HVAD device. The device may require less invasive surgery and be suitable for smaller patients. Image source: HeartWareWeighing 5.6 ounces, the HVAD provides increased durability, says LaRose, because of a simplified "contactless" design that eliminates mechanical bearings. Instead, it suspends the pump's rotor in a magnetic field. This design not only delivers optimal blood flow, but it also reduces blood cell stress. And the compact size allows the pump to be implanted adjacent to the heart, eliminating the more invasive abdominal surgery required for older systems, says LaRose.
The HVAD system captures device information on an ongoing basis, and the exterior controller's display—alerts the patient to device problems and recommends corrective action. To head off potential adverse events such as clotting, cardiologists can also analyze log files that show flow waveforms of pump performance.
HeartWare is now working on a next generation device called the MVAD[PS1] , which features the same contactless suspension design as the HVAD but is one third as large. Because of its more compact design, the MVAD may require less invasive surgery and be suitable for smaller patients. It also could be used to treat patients in earlier stages of heart disease. HeartWare expects to submit a clinical trial application for the MVAD in 2015.
Search for Technical Breakthroughs
While no one expects LVADs to become as popular as heart pacemakers—some 600,000 pacemakers are implanted worldwide each year—a major step toward greater use would be a fully implantable system that includes the pump, controller and batteries. This design could eliminate the need for drive lines that penetrate the skin and can cause infections. The leading LVAD companies are all working on transcutaneous energy transfer (TET) technology, which recharges implanted batteries using inductive coupling across the skin.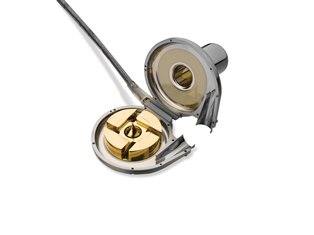 For increased durability, device makers have replaced mechanical bearings with contactless designs in which the pumps rotating impeller floats in a magnetic field. Shown here: the impeller for HeartWares HVAD model.For example, Texas-based ReliantHeart, whose 3.2-ounce HA5 LVAD has received Europe's CE mark and is now undergoing clinical trials in the U.S., and is working on TET technology together with German's Dualis MedTech. The system uses magnetic coils to transfer power wirelessly from outside to inside the body. The key to an effective TET system, says ReliantHeart CEO Rodger Ford, is not battery technology but a highly efficient drive train.
"In our case, that drive train is our pump, which is being modified to draw only 3.5 watts," he says.
In line with his company's philosophy of "forward compatibility," Ford says that the HA5 is designed so that a patient now using a pump with an an external drive line could be upgraded to a TET system, which is expected to be available in 2016.
In addition to TET, ReliantHeart has designed a "direct implant" LVAD called the HA5D, which eliminates the inflow cannula that connects the ventricle to the pump. Instead, the pump is placed in the ventricle wall. This more compact design allows surgeons the option of implanting the device through a less invasive procedure known as a 'left thoracotomy," rather than splitting the chest in a "sternotomy" procedure.
Among other innovations, ReliantHeart has also developed a technology that lets the clinicians determine the pump speed by analyzing flow wave forms of pump output and valve opening at the patient's bedside. Pump data collected continuously by the HA5's controller can also be viewed remotely by the patient's doctor.
These and other design advances by LVAD companies could go a long way toward making heart assist devices a more attractive alternative for cardiologists. Industry pioneer Poirier sees the potential for more than 100,000 LVAD implants annually—a volume that could reduce the current price tag of $75,000 or more for the device alone.
To significantly ramp up the number of implants, explains Poirier, "LVADs must demonstrate superior durability and reliability, with minimal chances for adverse events. And patients don't want to be tethered to a drive line, which underscores the importance of fully implanted TET systems that can operate 5 to 10 hours before being recharged." Finally, says Poirier, LVAD control systems need to improved, with the introduction of such components as pressure sensors in the aorta and left ventricle for determining optimum pump speed.
Device makers are optimistic that such innovations will pave the way to greater acceptance of the technology.
Dr Keith Grossman CEO of Thoratec corp. says, "Only a fraction of the eligible patients are currently receiving LVAD treatment. Given that this therapy can provide enormous clinical benefits, I'm convinced that the industry ultimately will treat a number of patients that will be a multiple of the 6,000-plus patients that will be treated this year."
For More Information
INTERMACS registry for heart assist devices: http://www.uab.edu/medicine/intermacs/
Thoratec Corp.: http://www.thoratec.com/
HeartMate II patient video: https://www.youtube.com/watch?v=TXRfMnG1O_0
HeartWare International: http://www.heartware.com/
HeartWare HVAD video: https://www.youtube.com/watch?v=19DSt4q6T68
ReliantHeart, Inc.: http://reliantheart.com/
Heart Assist 5 animation: https://www.youtube.com/watch?v=NmS0N1b8qW4
Dualis MedTech wireless charging technology: http://www.dualis-medtech.de/en/technology/wireless-energy-charging-technology/
---