Boeing Reveals a New Cargo Drone Prototype
Eric Olson | January 11, 2018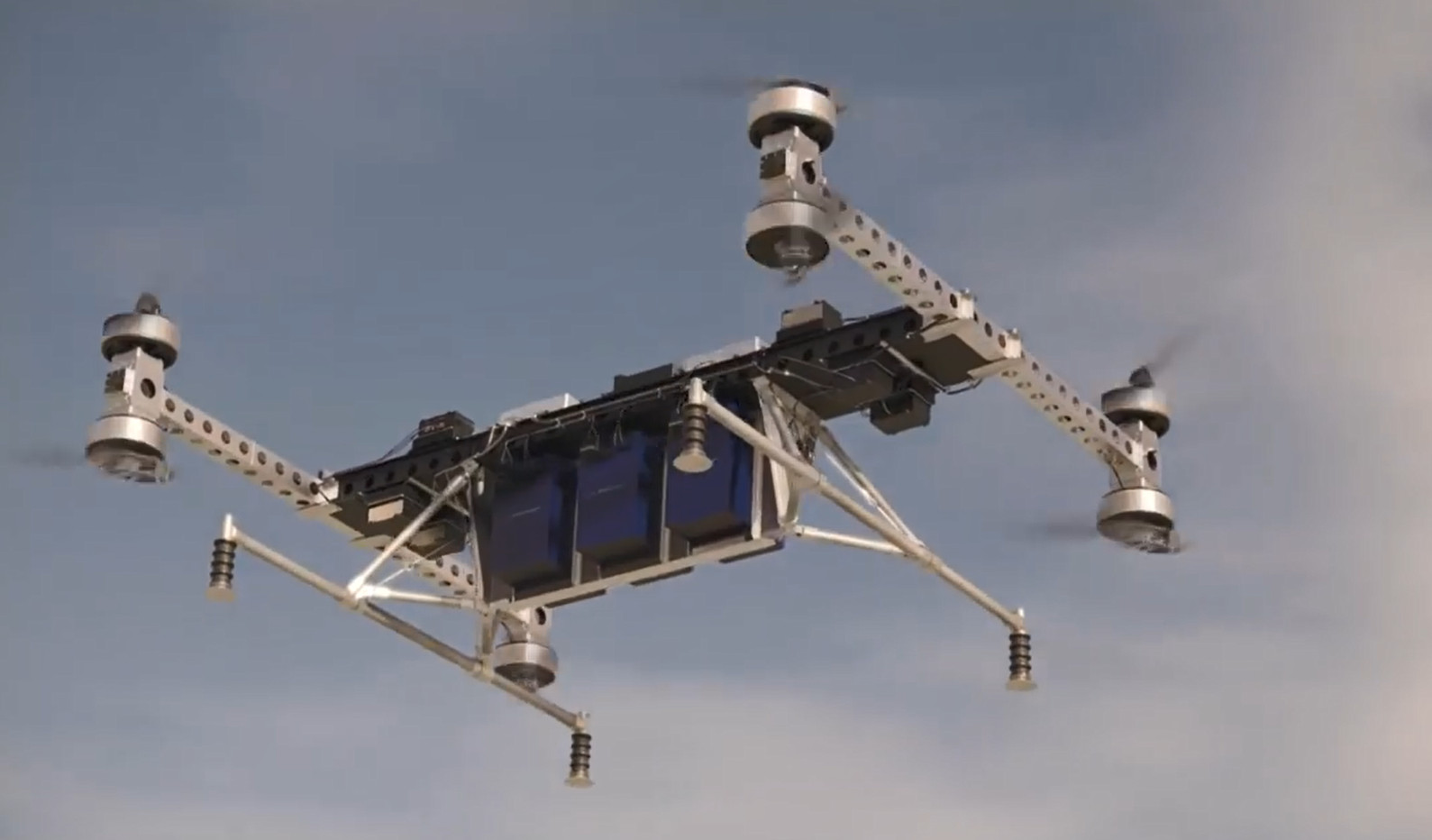 Boeing's cargo aerial vehicle (CAV) can haul payloads up to 500 lb (227 kg). Source: Boeing
Boeing has unveiled the prototype for a new large cargo drone intended for logistics applications. The electric vertical-takeoff-and-landing (eVTOL) unmanned cargo aerial vehicle (CAV) will serve as a flying test bed for Boeing researchers to advance autonomous technologies for future aerospace vehicles.
The 747 lb (339 kg) prototype vehicle features an electric propulsion system powered by custom Boeing batteries driving eight counter-rotating propeller blades. With dimensions measuring 15 ft long (4.57 m) by 18 ft wide (5.49 m) by 4 ft tall (1.22 m), the drone is capable of carrying up to 500 lb (227 kg).
In some areas, the CAV's performance metrics compare favorably to traditional cargo aircraft. By one measure of an aircraft design's efficiency, payload fraction (calculated by dividing an aircraft's maximum payload by its maximum takeoff weight), the prototype is far ahead. The CAV has a payload fraction of about 67 percent. For a Boeing 747-8F wide-body freighter, that metric sits at only 30 percent. The full size jetliner far outpaces the drone by other measures, though, with a maximum payload capacity over 290,000 lb (130,000 kg) and a range of 4,120 miles (7,630 km). Boeing hopes to extend the battery-powered prototype drone's delivery radius to 10 to 20 miles (16 to 32 km).
Initial flight tests of the remote controlled vehicle were successfully completed at Boeing Research & Technology's Collaborative Autonomous Systems Laboratory in Missouri. Boeing is working on integrating autonomy technology into the vehicle.
"Our new CAV prototype builds on Boeing's existing unmanned systems capabilities and presents new possibilities for autonomous cargo delivery, logistics and other transportation applications," said Steve Nordlund, Boeing HorizonX vice president. "The safe integration of unmanned aerial systems is vital to unlocking their full potential. Boeing has an unmatched track record, regulatory know-how and systematic approach to deliver solutions that will shape the future of autonomous flight."
Transportation and delivery by unmanned air vehicles is increasingly seen as a way to improve logistics efficiency. Amazon has been working on developing a drone delivery service to get packages under 5 lb (2.3 kg) to customers in less than half an hour. It trialed its Prime Air service in the UK, delivering the first package to a customer in Cambridge, England, in December 2016. A major hurdle to further expansion is the regulatory environment. Amazon is working with policymakers in various countries to gain permission for Prime Air drone operations.
Boeing's CAV was designed and built in less than three months by a team of engineers and technicians assembled from across the aerospace giant. The development was led by Boeing HorizonX in collaboration with Boeing Research & Technology. Boeing is also working on a prototype passenger eVTOL air vehicle through a company it acquired four months ago, Aurora Flight Sciences. Aurora is one of several firms working with Uber to develop a network of flying taxis.
"This flying cargo air vehicle represents another major step in our Boeing eVTOL strategy," said Boeing Chief Technology Officer Greg Hyslop. "We have an opportunity to really change air travel and transport, and we'll look back on this day as a major step in that journey."