Giving Voice to Immobilized Patients through Brain-Computer Interface
Tony Pallone | November 17, 2017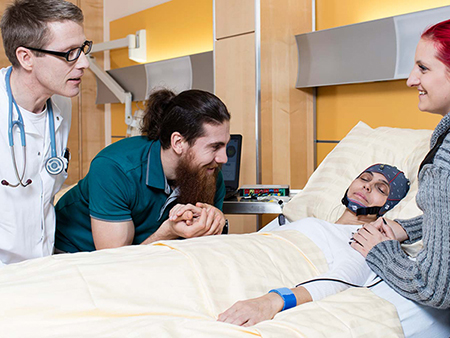 Image credit: Florian VoggenederImagine being cognitively aware, but trapped in a body that can't communicate – you can't speak, you can't blink. It's a condition called locked-in syndrome, and it can be caused by traumatic brain injury, stroke, medication overdose or neurodegenerative diseases such as amyotrophic lateral sclerosis (ALS).
It's the stuff of nightmares.
But g.tec medical engineering, an Austrian biomedical engineering firm, has developed a system that uses brain-computer interface (BCI) technology to help people in that state. The technology allows "yes" or "no" questions to be answered using only one's thoughts.
The system is called mindBEAGLE. It relies on electroencephalography (EEG) to detect brain activity, and machine-learning algorithms to interpret its meaning. Users wear 16-electrode EEG caps on their heads, plus vibration motors on their hands that deliver tactile sensations. When asked a "yes" or "no" question, the user can focus on the vibrations of one of their hands -- left for "yes," right for "no" – which creates brain waves that can be picked up by the EEG cap. The answer is then translated and displayed by a computer.
In addition to its facilities in Austria and Spain, g.tec recently opened a patient center on the campus of the University of Albany in upstate New York. It will treat and rehabilitate stroke patients, along with making home visits to other patients with locked-in syndrome. The center will also include a gym where stroke patients can learn to move their affected limbs through electrical muscle stimulation and a virtual reality system called recoveriX.
"The recoveriX gym in Albany will be a special therapy institution where stroke patients can receive our new recoveriX therapy,"said Christoph Guger, CEO and founder of g.tec. "This is exciting, as both recoveriX and mindBEAGLE can be installed in clinical institutions like hospitals, neuro rehabilitation facilities or other therapy centers that are specialized in stroke or DOC assessments."
According to the university, there are also plans for g.tec to introduce a franchise concept to allow physical and occupational therapists to open their own recoveriX-gym or mindBEAGLE assessment center in New York's Capital Region.
Click here to read the full story and watch a video on the technology, on IEEE Spectrum.