Restoring Communication for Locked-In Patients
Engineering360 News Desk | February 24, 2017
Four paralyzed patients suffering from amyotrophic lateral sclerosis and complete locked-in syndrome -- incapable of even moving their eyes to communicate – successfully used a brain-computer interface to convey their thoughts.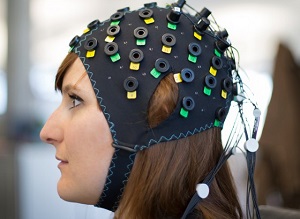 NIRS/EEG brain computer interface system applied to a model. Credit: Wyss Center for Bio and NeuroengineeringThe head-worn BCI uses near-infrared spectroscopy (NIRS) combined with electroencephalography (EEG) to measure blood oxygenation and electrical activity in the brain. Researchers at the Wyss Center for Bio and Neuroengineering in Geneva, Switzerland, asked the subjects personal questions with known answers and open questions that needed "yes" or "no" answers (see video).
The questions elicited correct responses seven times out of ten, demonstrating the ability to communicate using thoughts alone. In one case, a family requested that the researchers ask the patient whether he would agree for his daughter to marry her boyfriend. The answer was no, nine times out of ten.
What seemed to surprise the researchers the most? The question, "are you happy?" resulted in a consistent "yes" response from the four people, repeated over weeks of questioning.
While other BCIs have previously enabled some paralyzed patients to communicate, NIRS is, to date, the only successful approach to restore communication to patients suffering from completely locked-in syndrome, according to the researchers.