Flexible Optical Fiber Peers Inside the Body
S. Himmelstein | October 12, 2017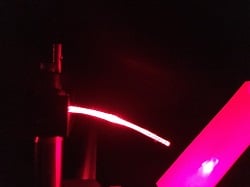 A view of light delivery through a citrate-based optical fiber. Source: Dingying Shan/Chenji Zhang/Penn StateMedical applications for light delivered via optical fiber include disease diagnosis, tumor destruction and laser surgery. Some uses require traditional fibers to reach a target deep inside the body for extended time periods, but since the device is composed of brittle, non-biodegradable glass it must be removed eventually.
A biodegradable step-index optical fiber designed at Pennsylvania State University may offer an improved tool for diverse biomedical applications where light delivery, imaging or sensing are needed.
The core of the flexible polymer fiber transmits light as a cladding protects the core and keeps the light from escaping. The core and cladding have identical mechanical characteristics, enabling the optical fiber to bend and stretch without the layers pulling apart. These materials will also biodegrade at similar rates in the body, without harm.
The researchers have measured light propagation characteristics of the citrate-based polymer device and then used this information to demonstrate image transmission through the fiber.