Timber Buildings Get a Boost from New Facility
David Wagman | October 02, 2017
Katerra says it plans to open a new factory in Spokane Valley, Washington, to produce mass timber products including cross-laminated timber (CLT) and Glulam.
The company says in a statement that its 250,000-square-foot mass timber manufacturing facility is helping to scale the production of CLT in the U.S. so that the material can be more broadly adopted across the construction industry.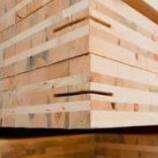 CLT is a wood panel typically consisting of three, five or seven layers of dimension lumber oriented at right angles to one another and then glued to form structural panels.
Last spring, officials in Portland, Oregon, approved plans for a 90,000-square-foot, 12-story, mixed-use project that will rank as one of the tallest timber high-rises to be built in North America.
The mixed-use project is called Framework and combines retail and public exhibition on the ground level, with five levels of office and 60-units of affordable housing. The building's designers are using structural and architectural technologies that include an engineered wood core and lateral system for seismic integrity and cross laminated timber floor panels fabricated up to 50' in length.
Katerra's manufacturing presence in the region will provide hundreds of jobs, while also stimulating the growth of thousands of additional jobs through the larger supply chain and associated industries, including design, engineering and construction.
CLT represents the future of sustainable construction. Due to its low carbon footprint and strength, CLT reduces environmental impact without sacrificing design or structural integrity. By manufacturing its own CLT, Katerra is embracing this natural resource, and helping the U.S. construction industry realize the promise of an advancement that is already widely used in Europe.
"CLT is perfect for Katerra in that it's a material that creates beautiful spaces, is designed for manufacturing, and is sustainable all at the same time," said Michael Marks, chairman and co-founder of Katerra. "This material represents a great opportunity to create new value within the construction industry and will be central to many of the projects we'll be designing and building. We feel very comfortable and excited, particularly with the knowledgeable team we have, to make the jump into manufacturing mass timber. We are ready to help bring mass timber to the mainstream of U.S. construction."
Through this investment in the Spokane area, Katerra is helping to make economic and community progress that is truly sustainable. This type of sustainable ecosystem is a model the company is planning to replicate in partnerships that will help boost other local economies through growth of this new market sector within North America.
Through its end-to-end construction services model, Katerra will supply much of the CLT to projects where it will also serve as architect and contractor. One of Katerra's first local Spokane-area CLT projects will be the construction of the new Hospitality Center in association with the Community Cancer Fund, Ronald McDonald House and Kootenai Health (Walden House). The facility will house both Ronald McDonald House families while their children are hospitalized in a home-away-from-home environment, as well as provide lodging for the Walden House adult outpatients and their families while receiving treatment at the Kootenai Health facility. The Hospitality Center is projected to be completed by 2019.
Additional facts and figures about Katerra's CLT factory include:
The facility will occupy 29 acres of a prime 52-acre site in Spokane Valley, with easy access to rail lines and interstate highways
More than 150 construction-specific jobs will be created to build the CLT factory
Construction of the factory will break ground later this fall, with production slated to begin in 2018
Learn more about Katerra's mass timber products here.
About Katerra
Katerra is a technology company optimizing every aspect of building development, design, and construction. With leaders combining expertise from the most groundbreaking technology, design, manufacturing, and construction companies, we transform how buildings and spaces come to life. Founded in 2015, Katerra has a growing number of domestic and international offices, factories and building projects.