Two species of trees native to the northeast US are suitable for innovative timber
Siobhan Treacy | February 28, 2020
Researchers from the University of Massachusetts Amherst found two species of trees native to the Northeastern United States are structurally sound for cross-laminated timber (CLT). CLT is a new kind of building material with sustainability characteristics. The trees are the eastern hemlock and eastern white pine.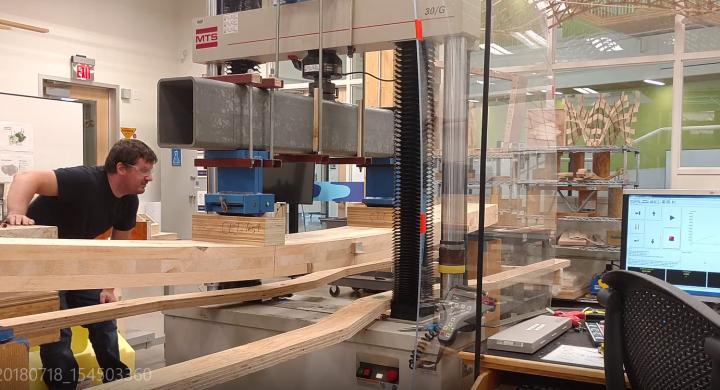 Panels of CLT were placed into a strength-testing machine at the UMass Wood Mechanics Lab, where a giant steel arm put thousands of pounds of pressure on the engineered wood until it broke. Source: Peggi Clouston/UMass Amherst
CLT is mass timber used for wall, floor and roof construction. CLT is more efficient and less wasteful than traditional site construction. It is less time and labor-intensive than building cast-in-place concrete and leads to a lower carbon footprint.
To test the two trees, the team made composite building panels by gluing together wooden boards from both trees. The boards were tested in a strength testing machine to find if they would be safe in a university sized building. After analyzing the results the team compared them to the engineering requirements. Both wood types met building standards, but the eastern hemlock performed better than the eastern white pine.
Salvaging wood from eastern hemlocks is a forest management priority. These trees are under attack by an insect, the hemlock wooly adelgid. This insect doesn't harm the wood, but it does kill the tree. Once dead, the tree will fall and becomes hazardous fuel for forest fires.
Manufacturing CLT could create jobs, improve rural and forestry economies and support forestry management. Forestry management is currently addressing climate change. The results from this study encourage using local wood for CLT.
A paper on this research was published in the Journal of Materials in Civil Engineering.