Mass Plywood Panel to Compete in Timber Market
John Simpson | November 15, 2016
Oregon-based Freres Lumber Company has developed a new-to-the-market, veneer-based engineered wood product—mass plywood panel (MPP)—for use in multi-story construction.
MPP is a large-scale plywood-based panel designed to be an alternative to cross-laminated timber (CLT). CLT products have been used in Europe for decades as a substitute for concrete construction and recently have been employed in multi-story construction in North America.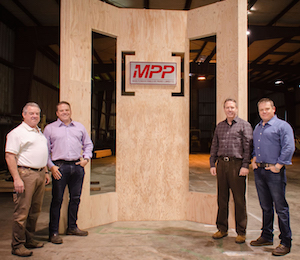 Panels can be manufactured in dimensions of up to 12 feet wide by 48 feet long and 2 feet thick. Image credit: Freres.Freres says that MPP can potentially achieve the same structural attributes of a CLT panel but with 20%-30% less wood. An additional advantage, according to the company, is that large-format panels can be manufactured at the production facility to include window, door and all other required cut-outs, helping to minimize waste and labor on the job site.
According to Freres, the relative lightness of the panels can reduce transportation costs and logistics when constructing buildings on-site. The company says the product can also potentially alleviate building constraints of labor and land availability by allowing contractors to construct taller buildings more quickly with fewer workers.
MPP can be manufactured with finished dimensions of up to 12 feet wide by 48 feet long and 2 feet thick. The panels can be customized, in one-inch-thick increments, to fit specific projects.
MPP is currently being tested and refined through a partnership between Freres and researchers at the Oregon State University College of Forestry and the National Center for Advanced Wood Products Manufacturing and Design. The company says it plans to have a full MPP production facility in operation by the end of 2017.