CLT used to create low carbon emissions apartment buildings in Boston
Siobhan Treacy | March 06, 2020
MIT researchers have used cross-laminated timber (CLT) to create a new building in Boston's Roxbury area with low carbon emissions. CLT eliminates most of the greenhouse gas emissions of traditional building materials. These buildings are assembled on-site from factory-built subunits and are energy efficient with almost zero net carbon emissions.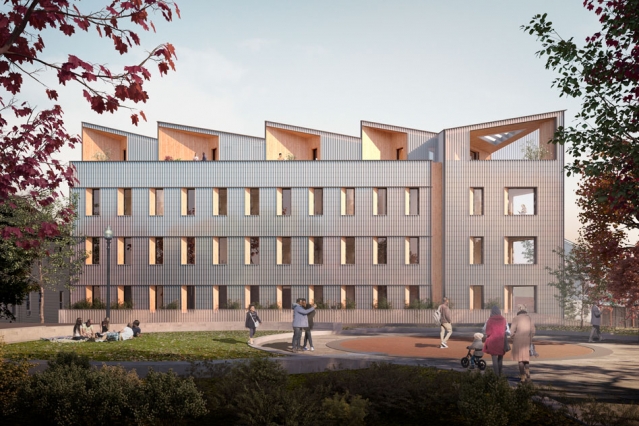 Architect's rendering shows the new mass-timber residential building that will soon begin construction in Boston's Roxbury neighborhood. Source: Generate Architecture and Technologies
The MIT project is called Passive House Demonstration Project. The project aims to build 14 residential units of various sizes with CLT. The units were designed by Generate Architecture and Technologies in partnership with Plactailor.
In the past, wood buildings have been limited to small apartment buildings and single-family houses. But recent construction developments have allowed this wood to be used in buildings up to 18 stories. CLT buildings have reduced energy needs for heating and cooling, provided good acoustic insulation and were designed for roof solar panels.
The total carbon emissions produced by construction would be half of a building made with traditional materials. The team modeled nine different versions of eight-story mass timber buildings, one steel building and one concrete building. All of the buildings had the same overall scale and specifications.
Researchers' analysis showed that the materials for the steel building produced the most greenhouse emissions. The concrete building produced eight percent less than steel, and the CLT buildings produced 53 percent less.
Mass timber buildings retain their structural strength longer than steel buildings in fire conditions. Large timber elements are made by gluing together several layers of CLT lumber. When exposed to fire, the wood chars on the outside, creating insulation that protects the wood from the fire. In a steel building, as fire reaches a temperature close to steel's melting point, the steel softens and a building collapses quickly.
The kit-based approach is called Model-C. When designing a building, it is possible to use a series of preconfigured models assembled in different ways to create variety. Subunits can be built in factories with the standardized process, trucked to the site and bolted together on site. This reduces the impact of weather by keeping most of the fabrication process in an indoor controlled environment.